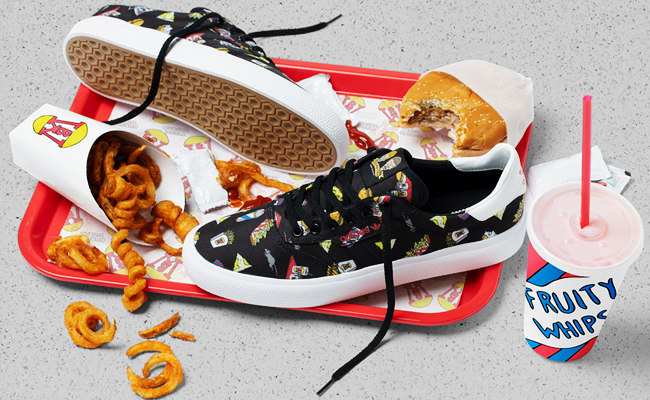 There is no denying that the 90s are back. In fact, it feels like we've been in the midst of a 90s nostalgia explosion for several years now so we guess people really don't want to revisit the 00s yet. Maybe it's still too soon for the denim on denim red carpet look to return. Which means for now at least, we'll continue reliving the 90s. And nothing says "the 90s" like Beavis, Butt-Head, skateboarding, and some cool ass kicks. So, we're pretty excited that Adidas is ready to give us all of that in one little release.
Adidas Skateboarding has partnered with MTV to release a limited edition five-piece Beavis and Butt-Head capsule collection that celebrates Mike Judge's iconic slacker cartoon. Making reference to the pair's daytime hustle at Burger World, the capsule collection features iconography that celebrates the fictional fast-food joint.
The sneaker is a new rendition of the recently released Adidas 3MC silhouette and features fast food graphics on black canvas — with a portrait of the duo on the tongue. The red Adidas branding is a nice touch that contrasts well with the mostly black shoe, and really pops against the white heel.
Other items from the collection include a fleece-blend pullover hoodie —featuring a graphic of the pair hustling at Burger World, a lightweight black jacket, two ribbed-neck cotton t-shirts in black or white, and perhaps most clever of all: a two-button red polo that works as a replica of the Burger World uniform — which is actually a whole lot more stylish than it sounds.
The Adidas x Beavis and Butt-Head capsule will drop on November 3rd and you can pick it up at Adidas Skateboarding retailers worldwide or the Adidas Skateboarding website. Check out the rest of the collection below.