A fire pair of sneakers is an essential component of a great fit. But with so many different sneaker silhouettes and brands out there, and fashion always in flux, it can be tough to figure out which shoes are going to give you an edge and make an impression.
Don't worry, we got you! As part of the Uproxx Style Hot List, we're going to be naming the 10 sneaker designs you need on your radar right now. These sneaker silhouettes are modern streetwear's finest — the shoes that are fetching high prices on the aftermarket, selling out fast on drop dates, and just generally looking great with today's style trends.
For this list, we'll be paying special focus to silhouettes and designs, rather than specific colorways or collaborations. We're also going to be focusing on shoes that aren't the more obvious timeless silhouettes — meaning no Jordan 1, 4, Adidas Stan Smith, Adidas All Stars, Converse All Stars, Reebok Club C, Nike Air Maxes, Nike SB Dunks, or Nike Air Force 1s.
Those sneakers are all classics, they're still popular and look great with today's trends, but we're going to assume you already know that and you're looking for something that'll set you apart from the normies. Sound fly? Let's dive in!
Nike — Zoom Vomero 5
Thoughts And How To Style
Make no mistake, Nike may not have a large presence on this list, but that's due to the fact that most of the brand's sneaker silhouettes enjoy evergreen status — so if you're looking for something that will set you apart from the crowd you're going to want to pick up a pair of Zoom Vomero 5s.
The sneaker made its debut in 2011 and was designed as a functional long-distance running sneaker. The build generally features lightweight mesh with leather overlays and reflective details for enhanced visibility.
The sneakers will look great paired with baggy pants or any other wide-legged jeans.
Onitsuka Tiger Mexico 66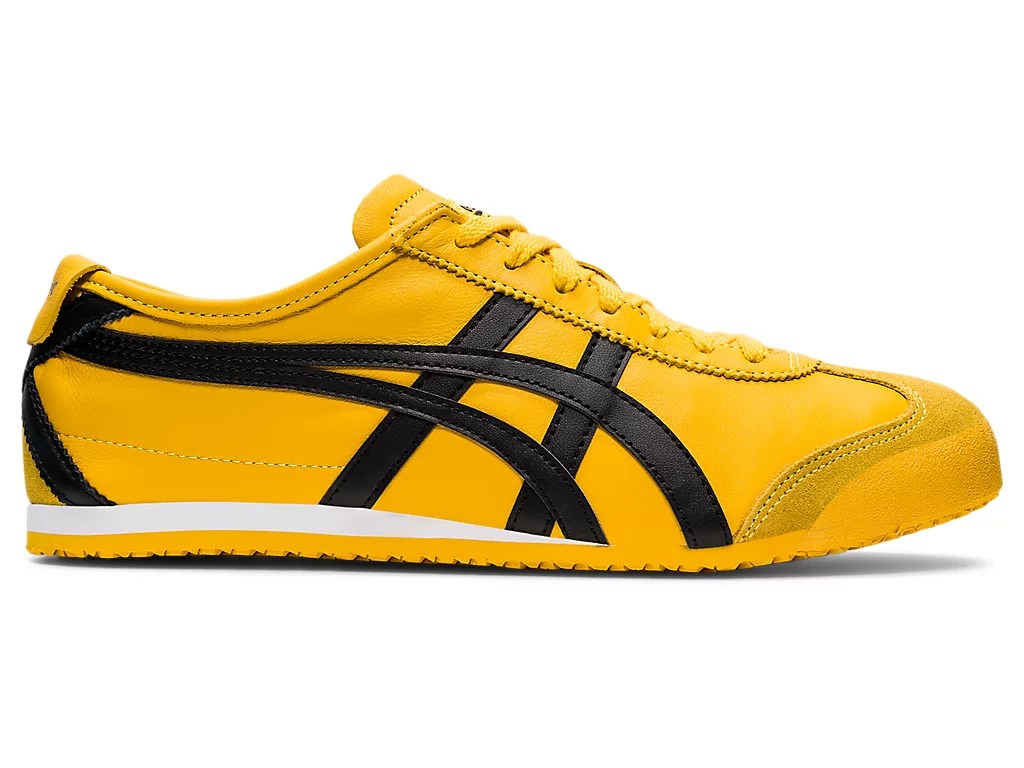 Thoughts And How To Style
Yes, these are the same sneakers that Kill Bill's The Bride rocked with a matching jumpsuit. And in 2023, they're back! This classic unisex '60s era trainer features a lightweight leather build and works with so many different types of outfits it's ridiculous.
Straight leg pants, check, long dresses, check, smart slacks, check, cargo pants, check, shorts — you get the point right? The Mexico 66 looks great with everything, which is why it's beloved by everyone from celebrities to that cool kid in your neighborhood who always seems to be a step ahead of everyone else style-wise.
If you're feeling a bit tired of other classic trainers like Adidas Sambas, the Onitsuka Tiger should be at the top of your list.
New Balance 1906R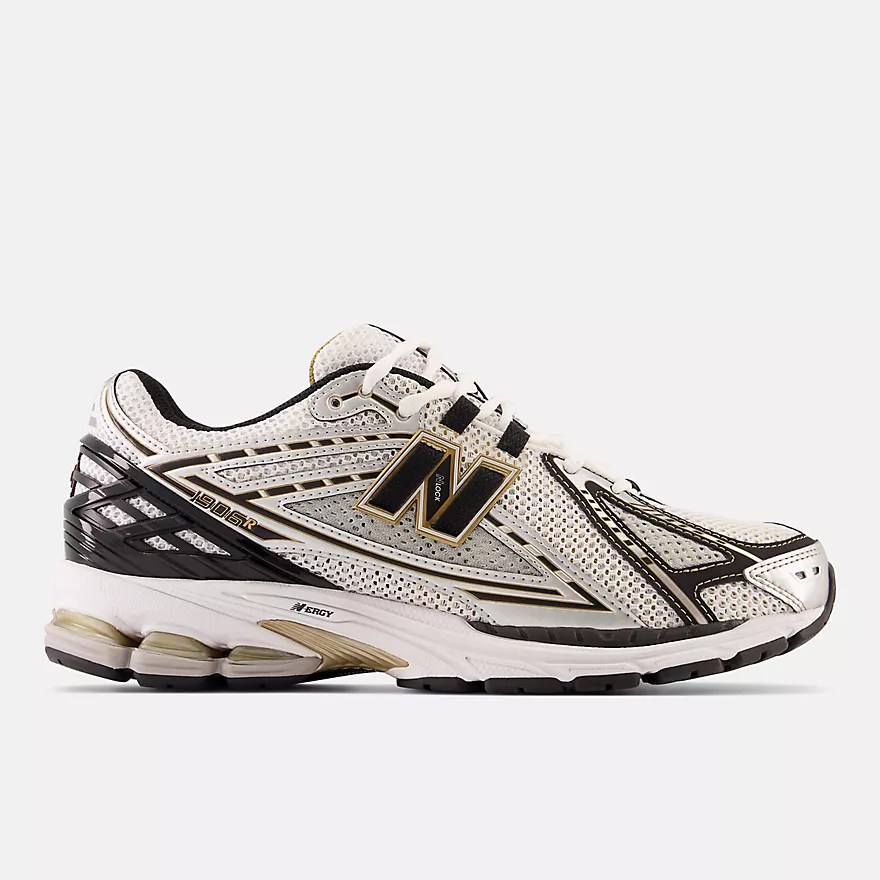 Thoughts And How To Style
This year New Balance has been paying special attention to the 1906R, giving us a lot of new colorways and linking up with some cool brands for collaborations on this throwback 2000s runner.
Generally, the sneaker sports a synthetic or breathable mesh upper with NB's ABZROB midsole for a comfortable ride and enhanced stability.
The 1906R is going to look great with whatever you pair it with, but we're going to go ahead and suggest going full Gorpcore on this one and dress them with cargo pants or anything Gore-Tex equipped.
Adidas Samba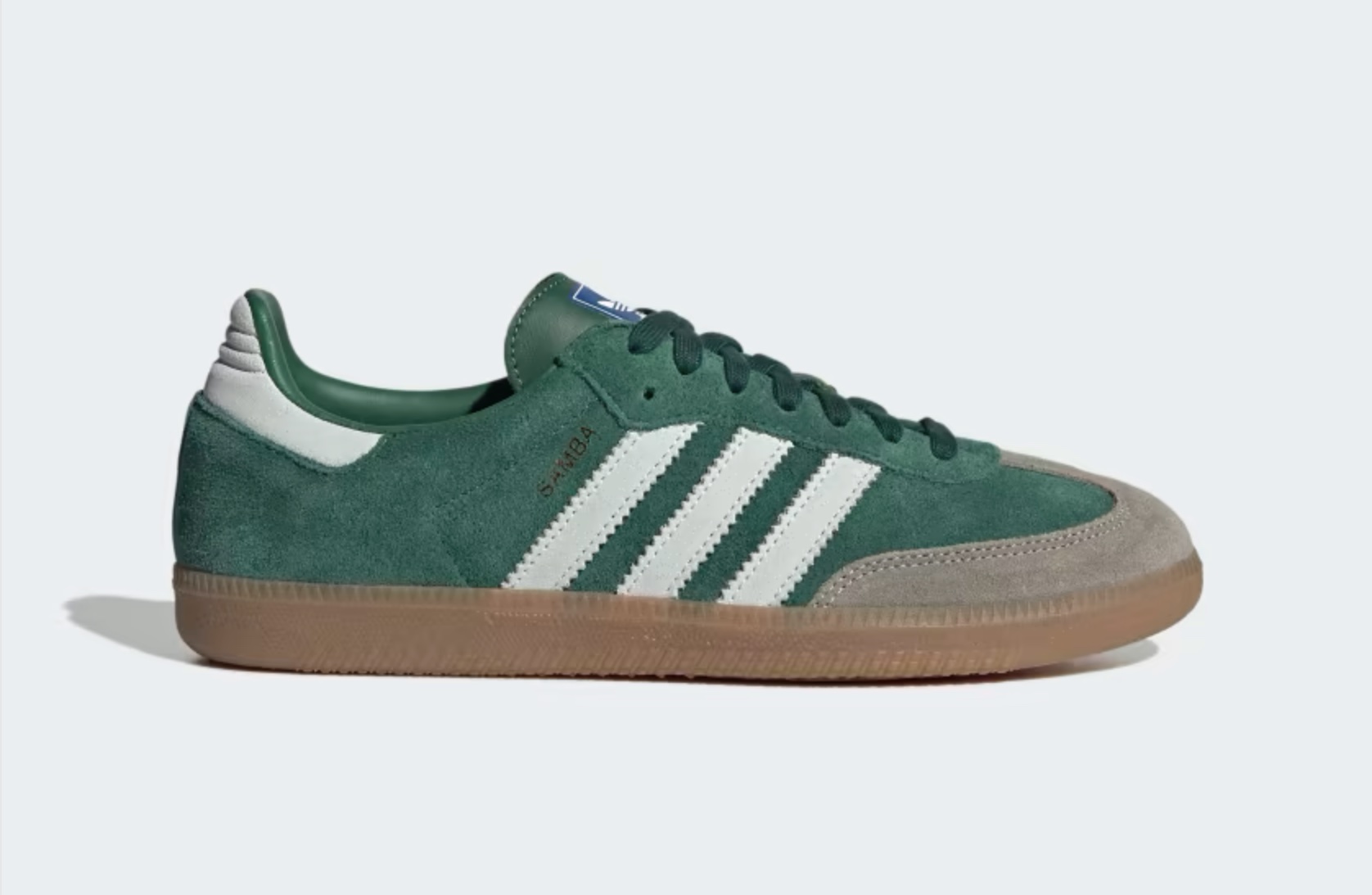 Thoughts And How To Style
A bit more premium and luxurious than the very similar Onitsuka Tiger Mexico 66, the Adidas Samba has exploded in popularity over the last couple of years. Things have been tough for Adidas ever since the brand dropped Yeezy, none of its modern silhouettes seem to hit which is why people are reaching deep into the brand's archives and showing love to its more timeless sporty silhouettes.
The Samba features a lovely suede build (or leather if you go classic white) with a classic gum rubber outsole and generally drops in a vibrant palette of colorways. At just $100 a pair, this is one of the most stylish sneakers you can pick up right now without breaking the bank.
Like the Mexico 66, this sneaker is incredibly easy to style looking great with most fits, whether you're rocking something incredibly casual or dressing up for a night out.
Track pants, baggy jeans, shorts, or chinos are a natural pair for this narrow soccer sneaker.
Salomon XT-6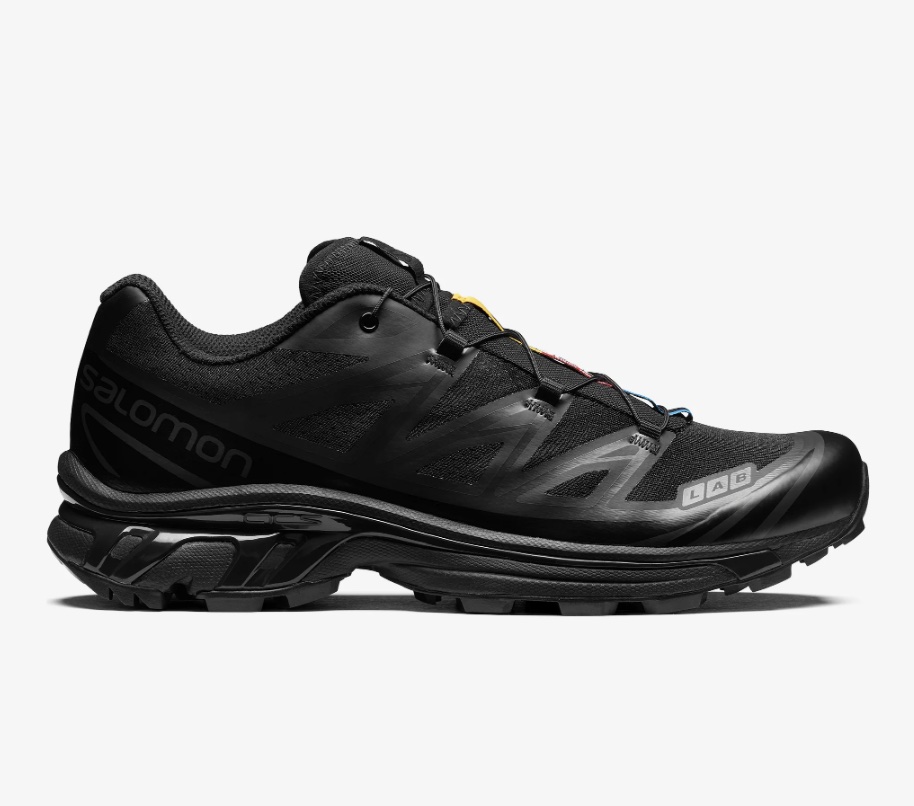 Thoughts And How To Style
The two trends that seem to be dominating streetwear right now are utilitarian-focused hiking sneakers and functional running sneakers. Salomon's unisex XT-6 is the latter, so if the sneaker lacks flash in your eyes it's very much designed that way on purpose.
This sneaker doesn't feature a lot of visual details to charm you. Instead, it relies on functional EVA cushioning for a comfortable step, a lightweight TPU film and mesh build for durability, and a chassis designed for rough downhill travel. The people who love these sneakers swear by the fit and comfortability, so if you're after a lightweight sneaker that is going to provide support while looking trendy in the process, the XT-6 is for you.
The XT-6 looks great with straight-legged pants, midi skirts, chino pants, and, true to the sneaker's roots, shorts.
New Balance 9060
Thoughts And How To Style
The New Balance 9060 takes all the best design elements from the 99X series and infuses it with a Y2K aesthetic. This silhouette features a mesh upper with pigskin suede overlays over a dual-density midsole with ABZORB or SBS cushioning.
The most iconic detail of the 9060 is the sculpted pod midsole. To me the sneaker has always resembled a hoof, take that as you will!
When it comes to styling the 9060 be sure to wear something that helps accentuate the shape. So put the baggy pants down and go for some tailored trousers or anything relatively tapered to help let this chunky design shine.
Asics Gel Kayano 14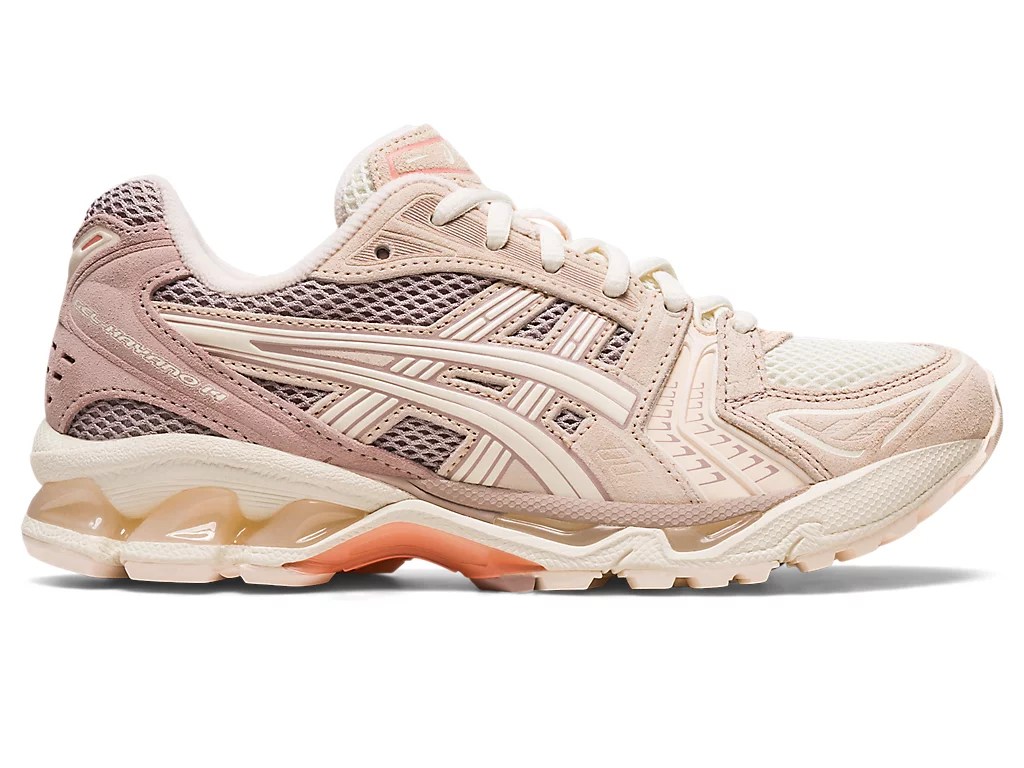 Thoughts And How To Style
If you're not feeling the whole Y2K resurgence and prefer a throwback to a more recent era, the Asics Gel Kayano 14 is your sneaker. First released in the late 2000s, the Gel Kayano features an upper composed of layers of synthetic material and mesh with Asics GEL technology for a comfortable ride.
Asics keeps this sneaker well stocked in both men's and women's sizes and a variety of colorways, making it a versatile choice that will fit in everybody's wardrobe.
This is another sneaker that features a chunky shape that is best juxtaposed by some cuffed-up trousers or chinos, or shorts or anything that is going to show off the shape.
Hoka Clifton 9
Thoughts And How To Style
While running shoes are dominating the streetwear scene right now, most of those sneakers are throwback designs to another era. Throwback designs look great, but they're not often the most comfortable and cutting-edge, the Hoka Clifton 9 is the opposite.
Released in 2023, the Clifton 9 is the ninth iteration of Hoka's Clifton line (hence the name) and features a compression-molded EVA foam midsole for ultimate comfort with a streamlined upper design composed of breathable knit with minimal overlays. It's light, cushiony, and ultra-modern.
Cliftons will look great with everything from shorts to pants to dresses, but for best results reserve these sneakers for your more athletic-focused fits.
Saucony Pro Grid Triumph 4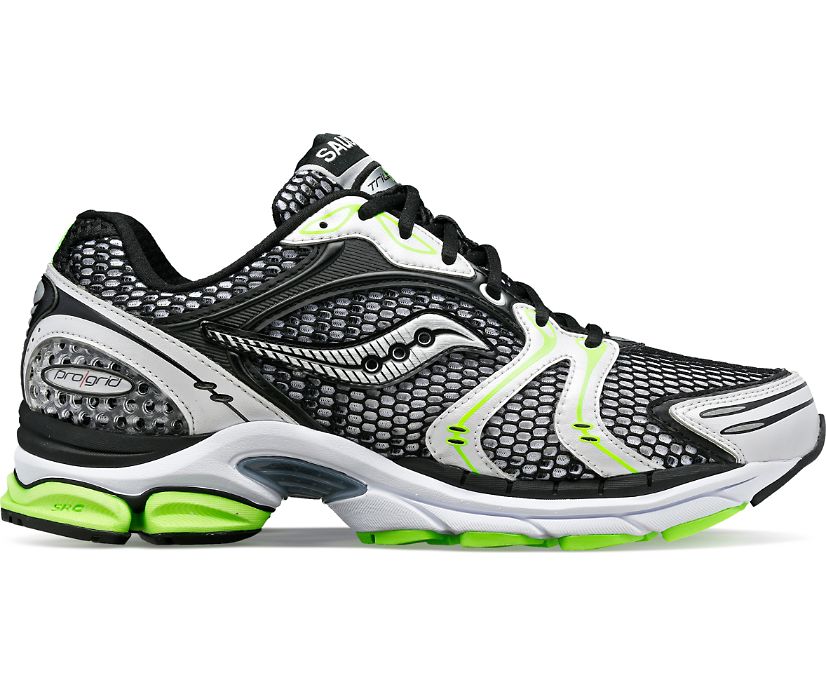 Thoughts And How To Style
Incredibly tech-focused and futuristic — despite dropping 16 years ago — the Saucony Pro Grid Triumph 4 is Saucony's most popular silhouette. The sneaker features an open mesh base adorned with leather overlays, an Arch-lock, and a ProGrid-equipped midsole with a narrow heel and a bouncy comfortable fit.
While most runners focus on mesh and synthetic uppers, the Saucony still sports leather, giving it a sort of luxury look that sets it apart from other running shoes.
The Saucony is another GorpCore staple, so pair this sneaker with ultra-baggy cargo pants or midi dresses.
New Balance 990v3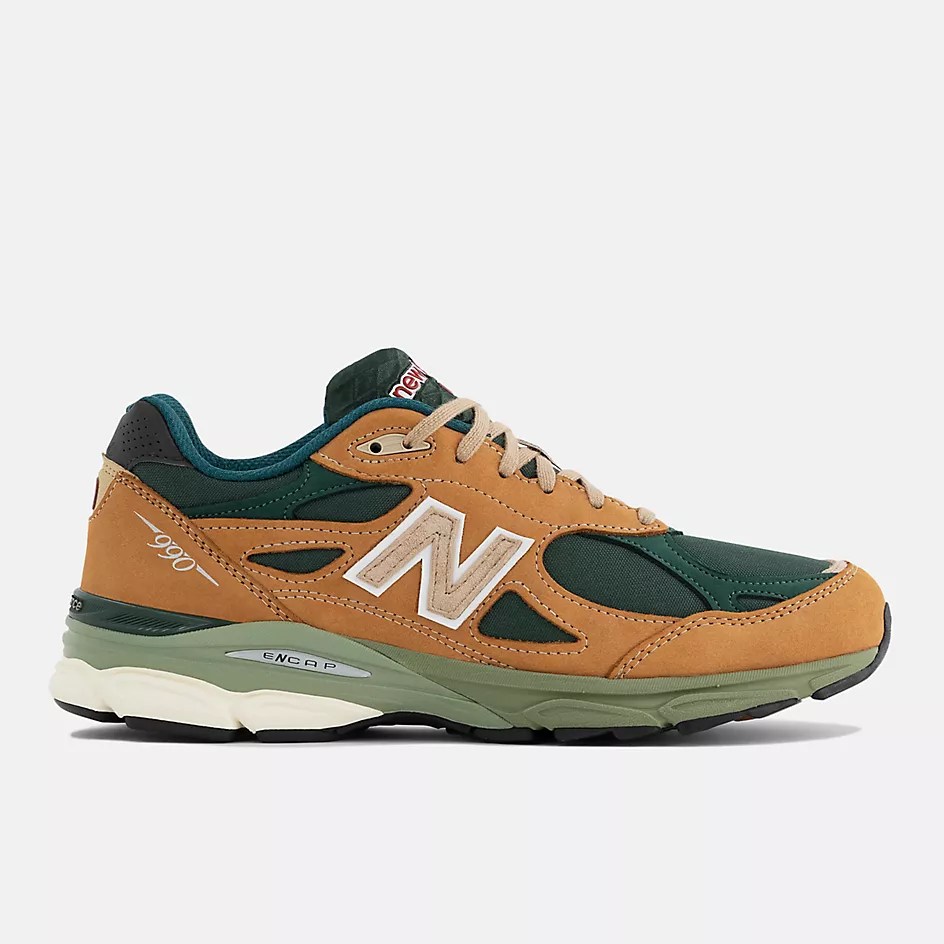 Thoughts And How To Style
In truth, you could pick any of the New Balance 990s and spark envy amongst fashion-forward onlookers. It is, without a doubt, New Balance's best silhouette, but if we had to pick the best version, we're going with the v3.
The v3 sports a premium pigskin upper with nylon and sits atop NB's ENCAP midsole for a light step. The best version of this sneaker almost always comes out of NB's Made in USA label which generally has the best colorways and collaborations.
If you come across a 990v3 Made in USA, pick it up and don't give it too much thought, if you do it'll likely sell out.
Styling this sneaker is incredibly easy, it looks great with anything. Skirts, washed-out jeans, trousers, shorts, hell, I've people around LA rocking a suit with a fresh pair of 990v3s and it still looked good.