We're deeeeeeeeep in swimsuit season. It's hot as f*ck outside and we're all collectively looking for ways to cool down and excuses to hit the beach. It's the only time of the year when swimwear doubles as streetwear and we're all for it! Bikini tops and shorts, trunks, sandals without socks — who doesn't love a seasonal look?
That's why for this special edition of Style Watch, we're focusing entirely on swimwear. Whether you're looking for a good breezy fit to rock at the park or backyard barbecue, or you know, actually hitting up a pool or beach (and if you're lucky, all four), we've got you covered with all the best swimwear from our favorite brands right now. If you're looking for non-swimmable streetwear, you can still hit up our previous style watch which was themed around festival fashion (it's still festival season, after all).
Fans of more traditional streetwear stylings will just have to wait until it's cool enough to wear pants again. Let's dive in!
EDITOR'S PICK: Bydee USA — Cyprus Bikini In Alythia
Everyone wants to get to Greece right now. Also: Greece in the summer is crazy expensive. But this swimsuit conjures Greece and is also stylish as hell. Rather than a typical string bikini, this look has extra fabric — making it more decadent and luxurious. It's also sexy as hell without having anything to prove.
If you're going boating this month, especially if your destination can look remotely like the Mediterranean — think Catalina Island on the West Coast or Long Island out east — this is the look you want to have all over your IG. If blue and white isn't your vibe, the brand features a whole range of beautiful, painted-looking swimsuits in a variety of styles.
EDITOR'S PICK: Roark — Shorey Boardshorts Pink Cherry Blossom
Price: $69.99
I was really late on the shorter shorts with a drawstring look. I come from the "snap fly boardshorts" era and it was an adjustment. But then I got a few pairs of Roark's shorts and I realized something: I look better in these. I've got pretty nice thighs and a little extra weight around the waist, so boardies weren't doing me any favors at all.
Since picking up one pair of Roark's shorts, I've gone all in and gotten… seven? Eight? My most recent buy was these. Because if you can't be bold enough to wear pink in the summer, when can you do it?
Patagonia Baggies — Anacapa Blue
Price: $59-$65
Nothing beats a pair of Patagonia Baggies. It should come as no surprise that the iconic outdoor brand also sells swim trunks — available in both men's and women's sizes with either a five or seven-inch inseam.
These multifunctional shorts look great both in and out of the water and are made from quick-drying nylon and sport a DWR durable water-repellent finish with an elasticized waistband, quick-drying black mesh liner, and vertical side pockets to reduce drag in the water.
Lulu's — Island Time Peach Underwire Cutout One-Piece Swimsuit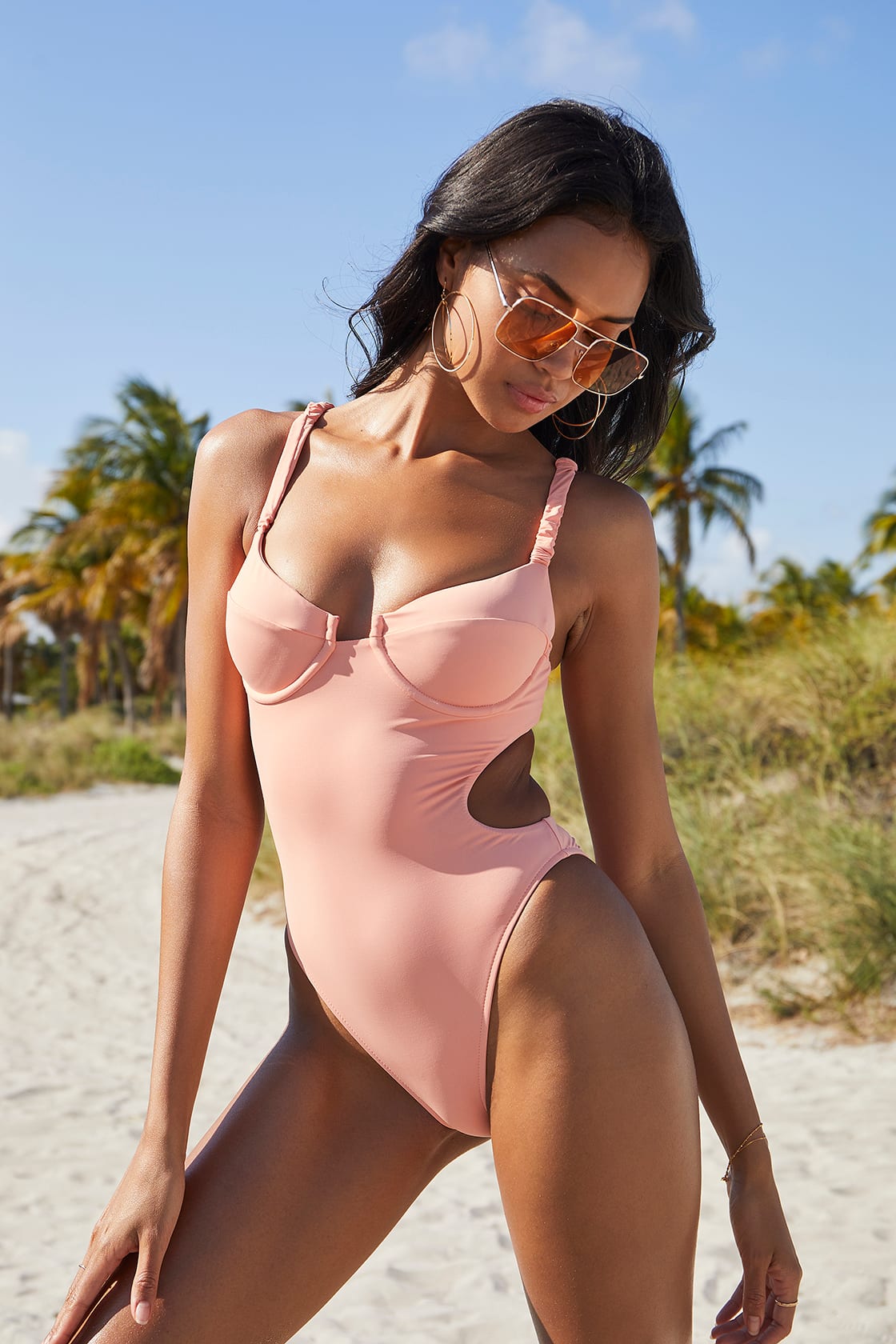 Price: $88
Lulus is well supplied with everything from tops to rompers, jumpsuits, two-piece ensembles, skirts, and a large variety of summer-ready swimwear. Whether you're looking for printed swimsuits, bright sets, cutouts, string bikinis, and underwire tops, Lulus has it all.
Our pick is the Island Time underwire cutout one-piece swimsuit, which sports stretchy tricot knit shapes, a bustier-inspired cut with hidden underwire support, removable padding, adjustable shoulder straps, a fitted bodice with twin waist-wrapping cutouts, an open back design, and cheeky bottom in an eye-catching soft peach colorway.
Pretty Little Things — Black Frill Edge Padded Bikini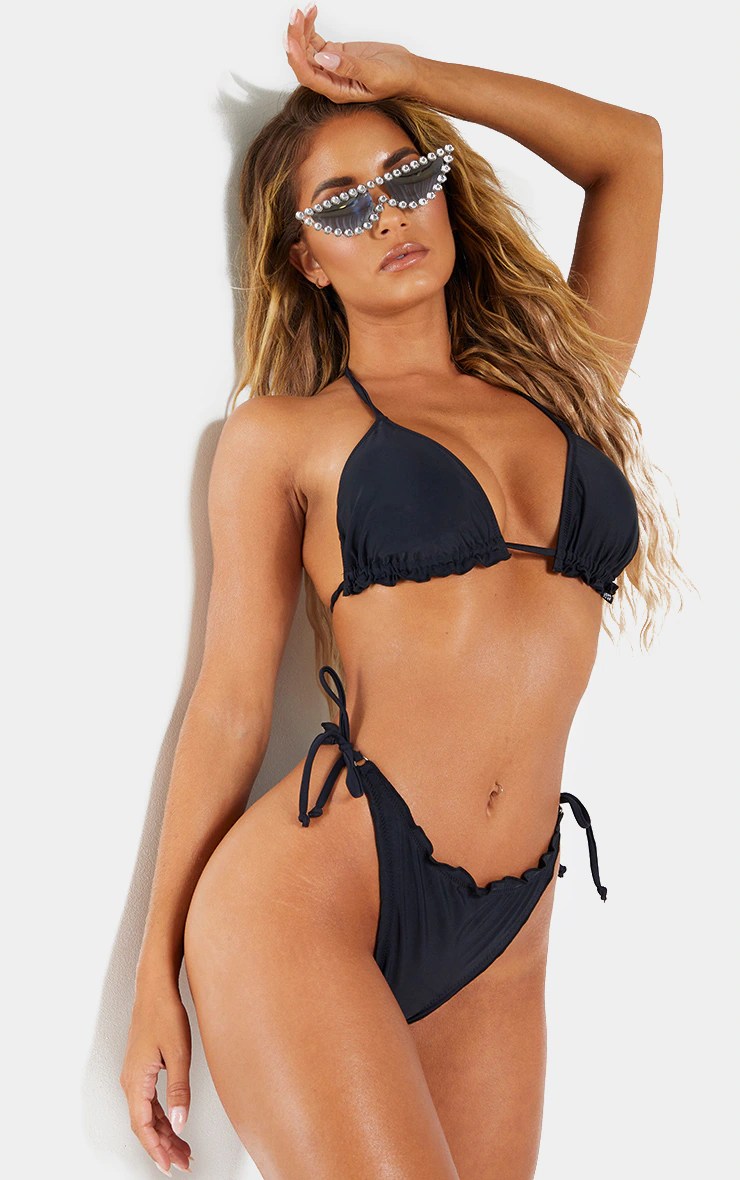 You've likely seen Pretty Little Things pop up on your various social media feeds and that's because the brand attempts to cater to everyone, whether you're looking for a party-ready statement piece or an everyday staple. The brand's swimwear is no different — offering all sorts of different styles catering to every body type.
Our pick for this article is the simple Black Frill Edge Padded bikini which features a boosting padded top with a matching ruched side tie bottom made of polyamide elastane.
To shop Pretty Little Things swimwear, click here.
Lulu's Poolside Party Red Ruffled Bikini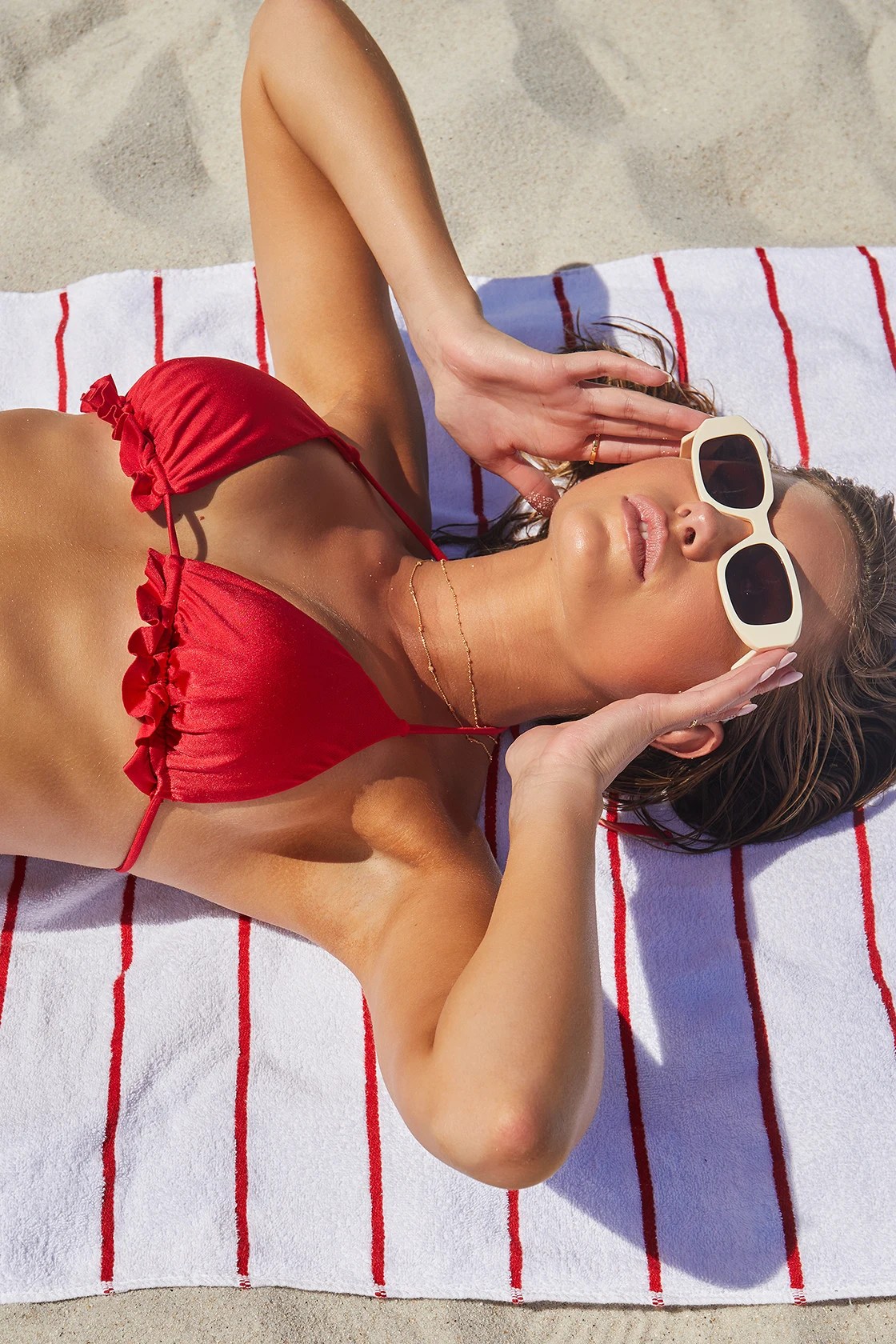 Price: $35 (Top), $29 (Bottom)
If you're not feeling Lulu's one-piece offerings, keep it simple with this form-fitting Poolside Party Red Ruffled bikini. The piece features high-cut legs, cheeky bottom coverage, and is made from 80% nylon and 20% spandex, in a shiny red colorway with ruffled triangle cups, and an adjustable halter neck.
Quicksilver Men's Ocean Union Amphibian Board Short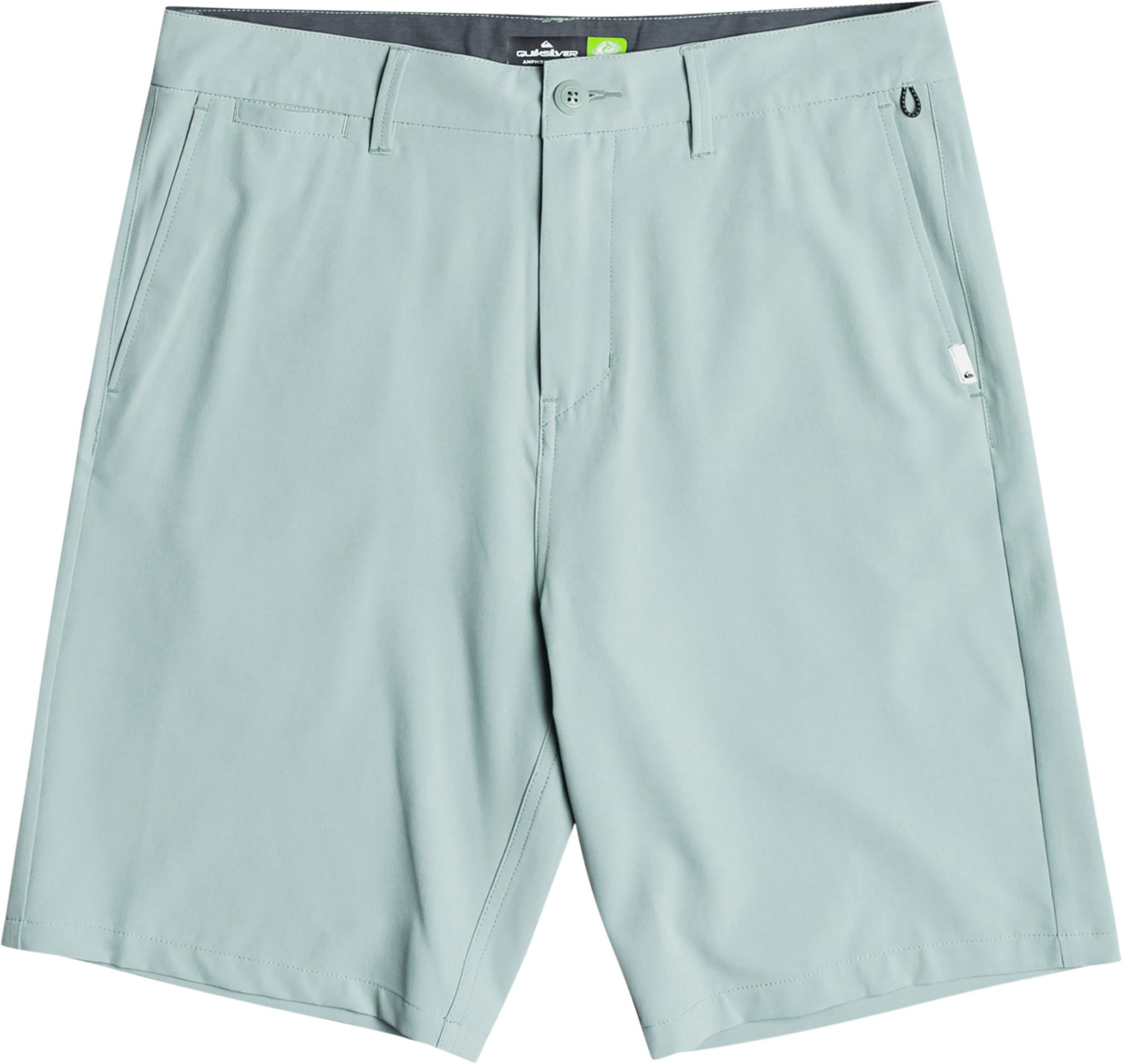 Price: $56
Admittedly, it's been a minute since we've even thought of Quicksilver, but surfwear enthusiasts know the brand continues to go strong, which is why the brand's Ocean Union Amphibian Board Short is a favorite amongst many.
Featuring a mid-length cut, these board shorts sport four-way stretch, a regular fit, and side pockets with a water-repellent hydrophobic coating which is designed to quickly dry after being submerged.
The board shorts are available in a variety of colorways and patterns.
Minimal Animale — Lucid Bijou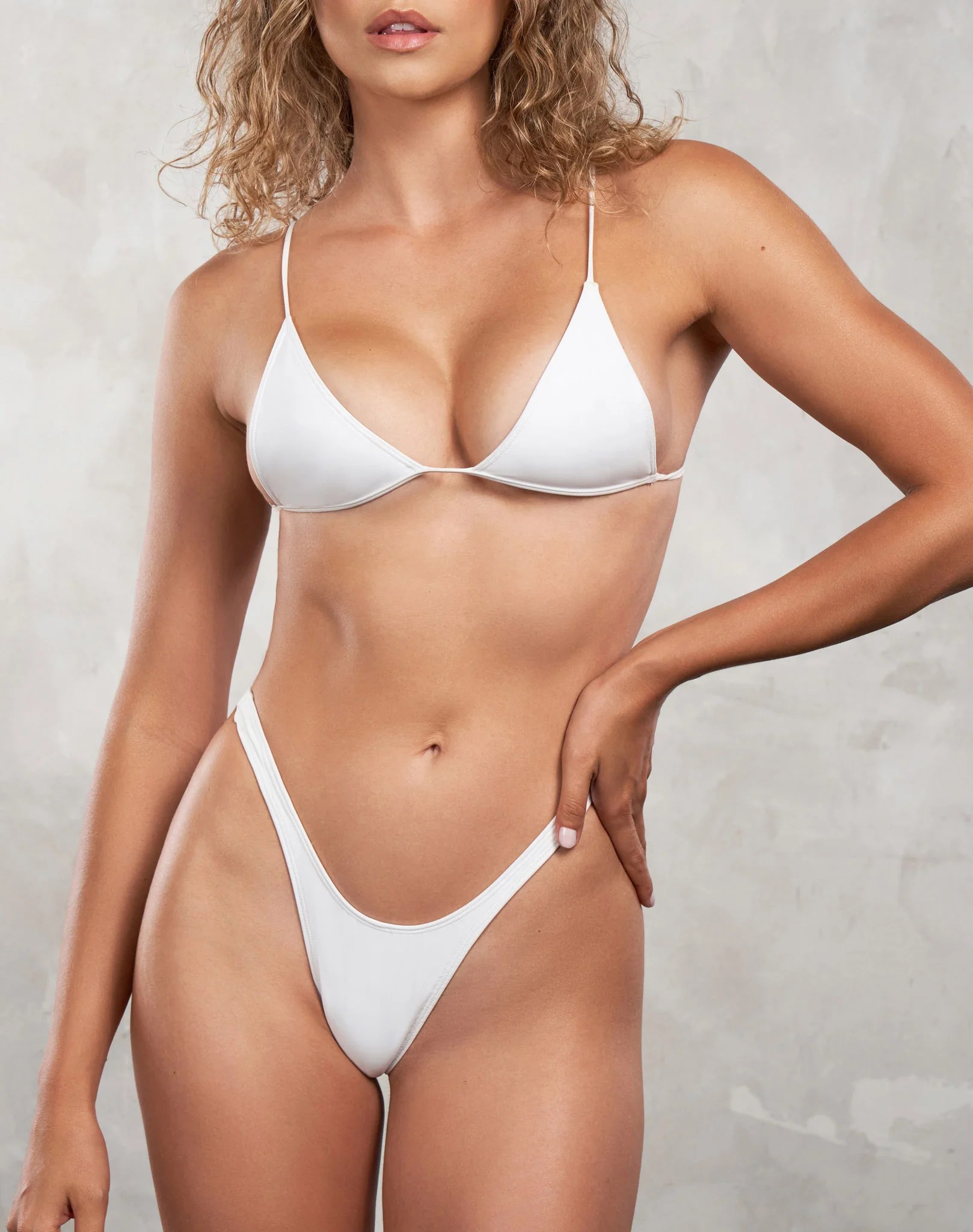 Price: $105 (Top)
If you're looking for a statement bikini that'll look great on your social feeds, your latest photo shoot, or IRL, Minimale Animale is your brand. The swimwear from this brand is simple, but designed to stun.
The Lucid Bijou top features a fully lined nylon spandex build designed and made in California, with a simple flattering design that can be paired with a variety of Minimale Animale bottoms. Complete your look with the cut you're most comfortable with at Minimale Animale.
Polo Ralph Lauren Water-Resistant Hiking Short
Price: $98.50
If you're looking for swim trunks that lean higher-end, Polo Ralph Lauren has got your back. Don't be misled by the name, these trunks aren't explicitly 'hiking shorts,' but rather hiking inspired with a recycled nylon build, elastic waist, webbed belt, and angled pockets, with the iconic Polo Beach label and a super dope color black design.
Stone Island Green Crinkled Swim Shorts
Price: $157
Polo Ralph Lauren might have the backs of the high-end-minded, but Polo isn't streetwear. If you're a streetwear enthusiast, no other brand is going to connect with you like Stone Island. The Italian luxury streetwear brand brings is minimalist aesthetic and earthy colorways to the swimwear world with these double-dyed recycled nylon taffeta swim shorts which sport a concealed drawstring, elastic waist, three-pocket build, with mesh lining and Stone Island branding.
It's minimal but effective.
Nalia Swim — Bali Crochet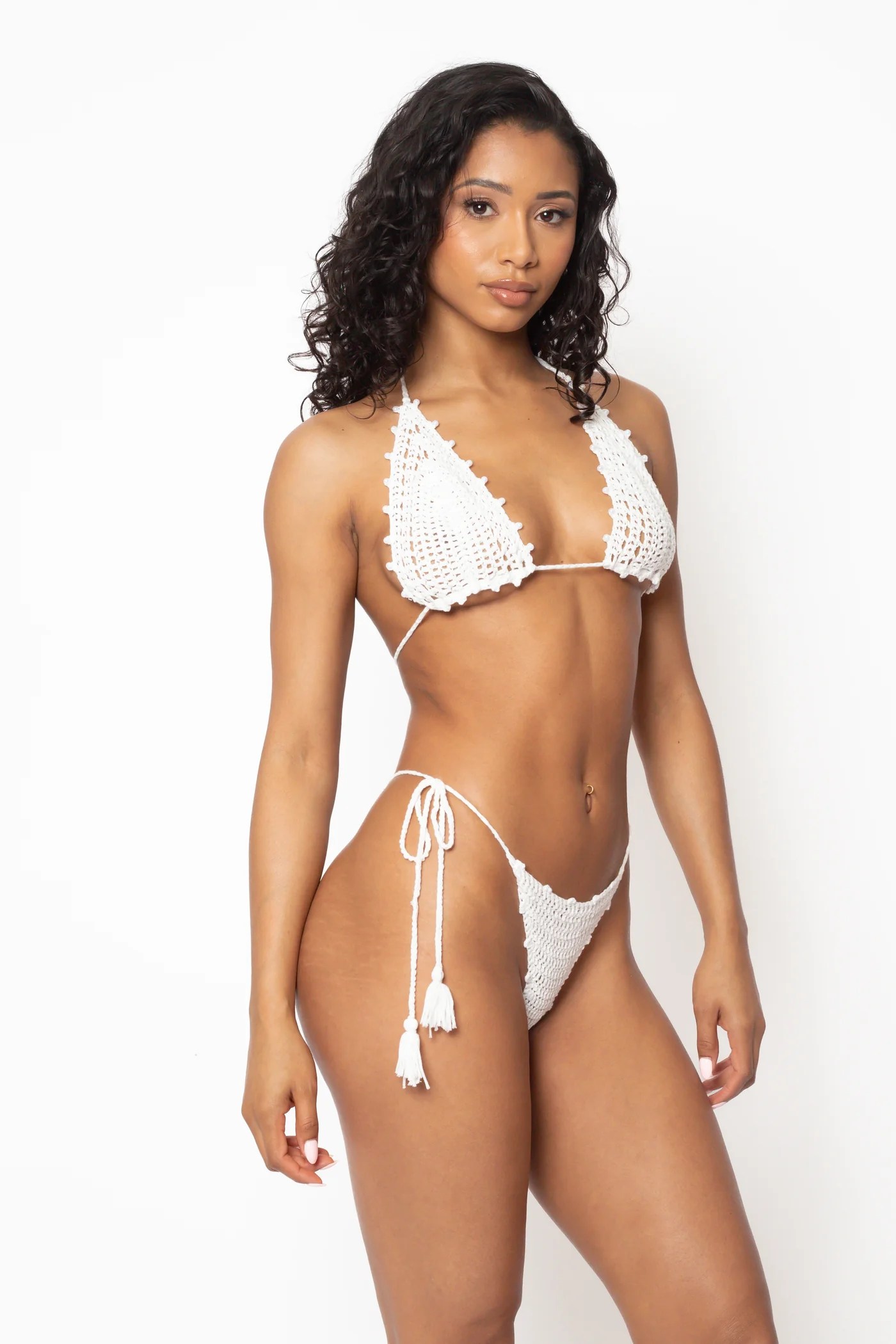 There is a difference between pool wear and vacation wear, Nalia Swim understands this, so if you're looking for a statement bikini to rock at the resort, you're going to want to grab something like the Bali Crochet bikini,
Made in Bali and featuring a handmade crochet knit, the Bali Crochet Bikini fits true to size with an adjustable halter neck, tie and back frayed, and pearl embellishments throughout. It's the sort of bathing suit that is designed to make it clear to the world that you're living your best life.