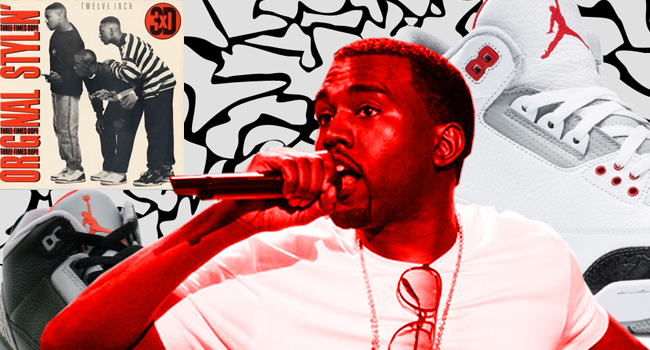 We all know that sneaker culture and hip-hop have been bedfellows for a long time. But if you want to know the origin of their affair you can't forget basketball's role in the ménage à trois. Back in the day, b-boys practicing their moves on cardboard boxes in parks were posted up right next to ballers battling for court dominance. Both crews required fresh kicks. All three subcultures exploded in popularity around the same time, due to the synergy from rap shout-outs and basketball endorsement deals, catapulting them into mainstream awareness and cultural ubiquity.
No sneaker helped this sneaker-rap-hoops bond congeal more than the Air Jordan III. The result of a similar lightning-in-a-bottle partnership between Nike, Michael Jordan, and designer Tinker Hatfield, the Air Jordan III resonated throughout both basketball and hip-hop, thanks to a witty ad campaign helmed by then up-and-coming director Spike Lee. While the original Air Jordan was one of the most popular shoes ever at the time of its release (owing to a marketing campaign bolstered by the NBA's choice to fine Jordan each time he played in them), the Air Jordan II hadn't made as much of a splash. Nike needed a hit. The result, the Air Jordan III, was not only one of the most popular shoes of all time, but was credited by Nike CEO Phil Knight with saving the company altogether.
As Mental Floss detailed in 2015, of one of the most important shoes in hip-hop and basketball history was created through a series of seemingly unrelated and inconsequential events. Jordan was looking for an out at Nike, lead designer Peter Moore left, and the deadline for a shoe to drop was rapidly approaching. Hatfield, an upstart designer who'd started out planning Nike catalogs, changed Mike's mind. Like much of the hip-hop that was being made at the time, Hatfield's shoe, MJ's game, and (later) Lee's ads made disruption into a habit. This was a shoe that flew against the status quo, in ways that both annoyed and worried the establishment.
From the first day of his rookie year, Jordan was a monster on the court. He was captivating at every turn — inspiring a generation of young basketball players to stick their tongues out on dribble drives. He was also a true star: Someone who knew that he had every right to do things differently. He attacked the rim in a way defenses weren't prepared for, he wore long shorts, and he picked shoes that flew in the face of the league's uniform policy. It all only added to the mythos. Playing styles, short lengths, and NBA rules all changed to accomodate His Airness.
Meanwhile, Hatfield came to sneaker design indirectly. His first sketch was for a contest held internally at Nike — then mainly a running shoe company. The challenge was to design a shoe that would work on the street as well as the track. Hatfield took this to heart: His images had a bulging, eye-catching air bubble right in the sole. He won the contest and landed a job. Much like hip-hop heads, he became known for his remixes of existing styles and structures into new, never-before-tried designs.
When Hatfield met Jordan to work on the Air Jordan III, the basketball player was ready to jump ship. The men who had hired him were gone and leaving seemed logical. Still, he gave Hatfield a shot. The shoe the pair came up with was a complete renegade. It was mid-top at a time when the cut was considered less supportive of athletes' ankles, it incorporated tumbled leather (which resurfaced the natural wrinkles in the leather that normal processes removed), and the Nike logo was gone from the side of the shoe. Instead, the new "Jumpman" logo was given full front-view prominence, stitched into the tongue. Natural rebel Jordan loved them.

None of this cool origin story would mean much if the shoes just sat on shelves. Enter Spike Lee. Fresh off the release of his first feature film, She's Gotta Have It, itself an unconventional, black-and-white pastiche of styles that was nevertheless a hit, Lee was in high demand as a director. He even directed and appeared in an episode of Saturday Night Live as his character from Gotta Have It, Mars Blackmon, a motor-mouthed Brooklynite bike messenger who loved Michael Jordan and hip-hop as much as he loved Nola Darling, the film's protagonist. Approached by Nike to direct the promotional TV spots for the Air Jordan III, Lee placed Jordan's biggest fictional fan next to the world's greatest athlete, riffing on the now-iconic tagline, "It's gotta be the shoes." Hip-hop heads ate it up.
Rappers began wearing the shoes on their album covers. 3 Times Dope featured the shoes heavily on Original Stylin', their debut LP on Arista Records. The record was well-received, peaking at #122 on the Billboard 200 Album Chart, and the 12-inch cover is still cited as one of the most iconic in hip-hop history. Compton rapper Eazy-E likewise rocked the Jordan IIIs on the cover of his seminal debut, Eazy Duz It, proving the kicks' cross-coastal appeal. KRS-One sported the "black cement" colorway in Boogie Down Productions' classic "My Philosophy" music video, further exposing the model to a rap audience that was always thirsty for the latest trends.
Such is the enduring popularity of the model that in 2001, the Air Jordan III became the first Jordan to be re-released (or "retro-ed," in sneakerhead lingo) and sell out in full, sparking the modern limited edition sneaker collection trend that has skyrocketed in recent years, thanks to blogs like KicksOnFire and SoleCollector. According to SportsOneSource, the international sneaker market has grown by more than 40% since 2004, to an estimated $55 billion.
Features like Celebrity Sneaker Stalker have inspired rappers and hip-hop heads who weren't even alive when Jordan entered the NBA to jump in on the feeding frenzy with crazy colorways, like Chance The Rapper's Acid Raps customs. Long-time sneakerheads like Kanye West are known to break out rare pairs — as Yeezy did in the video for "All Of The Lights." Drake even debuted an unreleased sample set in his cameo in Nicki Minaj's "Anaconda" clip.
Even intellectuals like Mychal Denzel Smith caught the bug. Smith, author of Invisible Man Got The Whole World Watching (which takes its title from a line in Mos Def's "Hip-Hop") was profiled in The New York Times for his extensive sneaker collection, taking time out to praise the Jordan III, his first sneaker purchase after he earned a raise from a previous employer.
"I'd never had a pair of Air Jordan IIIs before," he said. "They have a huge place in the Jordan legacy."
In the same Times profile, Smith's mentor, fellow writer and hip-hop aficionado, Marc Lamont Hill, summed up the role of sneakers in hip-hop, and of both in mainstream spaces. "Hip-hop is about interrupting spaces. Mychal really likes to dress like that. It's quintessentially hip-hop."
Smith himself explained why Michael Jordan's legacy has endured for over three decades, saying, "He embodied a certain black cool, a black masculine cool that everyone wanted to emulate." By buying and wearing his sneakers, fans can feel associated with Jordan's cool factor and worldwide visibility, something that can feel meaningful in a world where being shot down by police while surrendering or handcuffed is a very real possibility, in the same way that playing raucous, rebellious rap music can bolster one's sense of confidence or express emotions that might otherwise be dangerous to reveal.
In the decades since the Jordan III — auspiciously a basketball shoe — launched, sneakers, like hip-hop, have become a way for young black men to take ownership of an identity that would otherwise be dictated by white-assigned labels like "thug" and "gangbanger." These same young men have ironically also always been the purveyors and tastemakers of cool to mainstream America. Meaning: White kids might have raced to buy Jordan IIIs, but it's young black men who made them fresh.
With Jordan more than a decade removed from his second comeback, it's natural to ask: Who's got next? Which shoe will merge rap, hoops, and sneakers the way the Jordan IIIs did? But so far the model has shown every sign of enduring — like Chuck Taylors for the modern era. And with fashion's penchant for remixing old looks, it seems like the IIIs have no intention of leaving the court, the stage, or the streets.