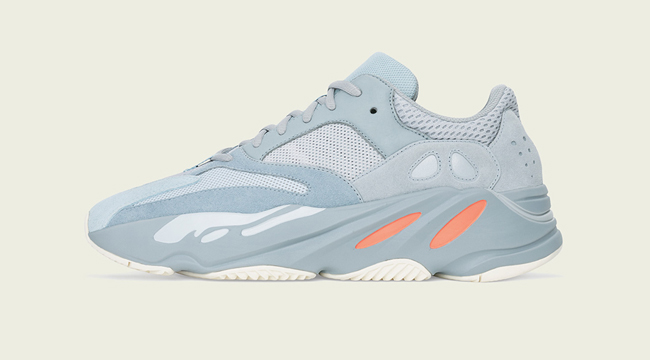 Welcome to our first slow week of the year! More often than not it feels like dope sneaker drops happen on a near constant basis, but every once in a while there is a lull that allows our wallets to breathe a grateful sigh of relief. Rather than skip the week, we saw it as the perfect opportunity to put dope sneaker-related stuff on your radar and to highlight some kicks that had the unfortunate luck of releasing in a more competitive week and just missed our top five.
Overall, we've got a bit of a random grab bag — think of it as a special edition of your weekly sneaker article. It should be mentioned that despite it being slow, this week still has one notable drop in the new Yeezy 700 Inertias, so make sure you don't sleep on them if you've been living for Ye's sneaker line. Without further ado, here is our inaugural "SNX — The Director's Cut" or… "The Special Edition"?
Eh, call it whatever you want, we aren't letting a wack release week slow us down.
The Shoe Art Of Jyn Waye
I've been looking for the right time to talk about Jyn Waye for a minute now, and this is the perfect opportunity. Jyn Waye takes iconic anime and cartoon characters from the 90s-00s like Sailor Moon, The Powerpuff Girls, and various Miyazaki and comic book characters, and hand paints them on backpacks, bags, shirts, inhalers — anything she can get her hands on!
She rose to internet fame when she first painted a pair of Air Force 1s and bidding ensued in the comments section. Not wanting to be pigeonholed, Waye moved on to using just about anything as a canvas. She sells her work on her website, but as of now everything is sold out so be sure to follow her and watch for an announcement of new work to come.
Oliver Cabell GAT
Started by 30-year-old Scott Gabrielson — who only had a passion for design, but no experience — Oliver Cabell is an independent footwear brand. Utilizing quality materials and old-school techniques, the sneakers at Oliver Cabell are hand made in ethical factories and the direct-to-consumer business approach allows the shoes to have zero retail markup.
They aren't going to knock away Nike and Adidas from the spotlight, but sometimes you can become exhausted with those big name brands and their corner cutting. The sneakers at Oliver Cabell are simple and understated, you won't be turning any heads with flashy kicks but sometimes it feels good to carve your own lane.
We like the Oliver Cabell GAT — made with an Italian leather upper and suede overlays, the GAT features a Spanish leather lining and hand stitched construction. Check out the Oliver Cabell site to see full material description and price breakdowns, its a refreshingly transparent move that the bigger brands should take a page from.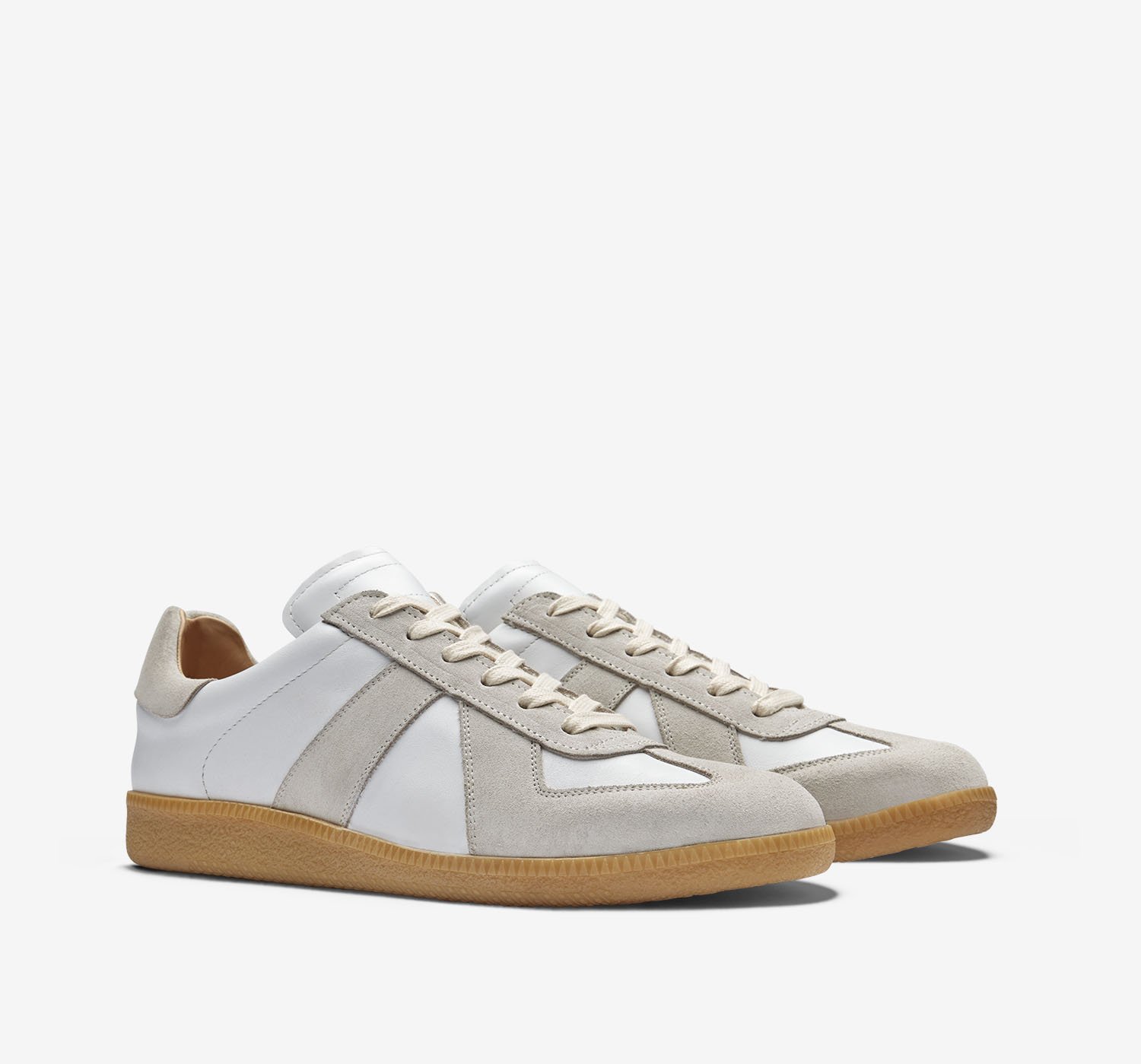 Puma Palace Guard OG White
The sneaker game is competitive and while Pumas don't make our weekly list as often as the Nike and Addidas juggernauts, they have plenty of awesome designs popping up. It's hard to mess with the two monster brands, who can't seem to stop releasing new iterations and silhouettes.
The Puma Palace Guards in OG White look dope as all hell. Featuring Trinomic technology on the heel with a padded collar to increase the comfort on these 90s court favorites, the Palace Guard pays homage to the vintage-era Detroit Pistons with its red and blue color colorway.
We're not completely sure when these kicks first dropped, but as of now they're completely sold out on Puma's official website. Snag a pair on aftermarket sites like Stock X, where right now they're selling for an overage of $95 per pair.
Adidas Yeezy 700 Inertia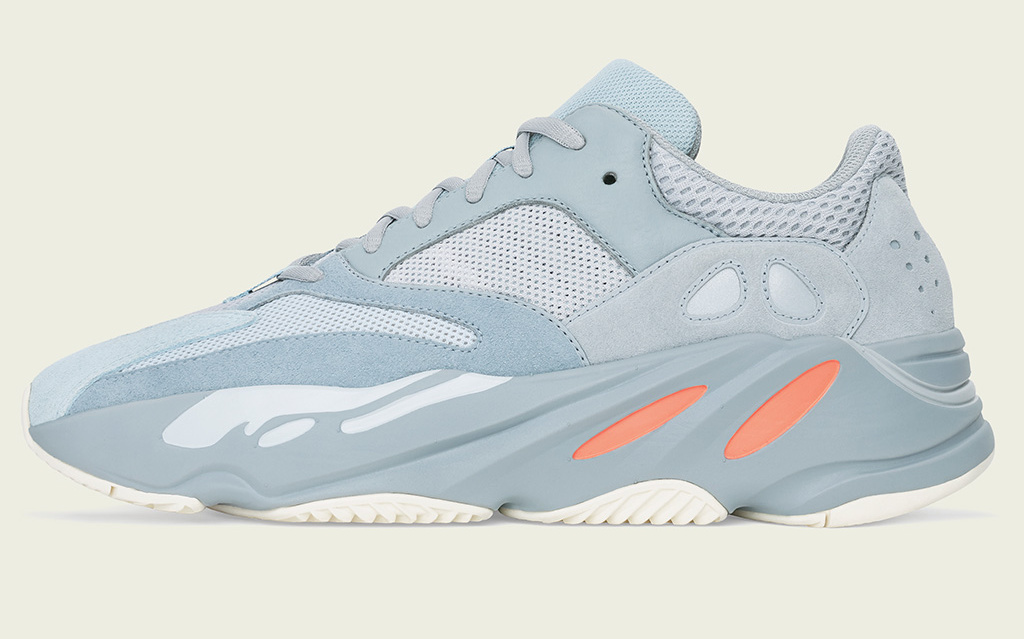 The latest from Yeezy Supply is a chunky low-top with a mixed mesh and suede upper sporting orange accents on the heel atop a cream-colored outsole and BOOST technology. The "Inertia" colorway is a faint tinted blue and follows color-cues from other Yeezy sneakers — though this time, West managed to pick a color that doesn't look like old faded barf.
What can we say, we're suckers for a faint blue tint! If you want to pick up the new Yeezy Boost 700s in the calm and cool Inertia colorway, head over to the Adidas or Yeezy Supply online stores where they'll retail for $300 on March 9th.
Set Google alerts, do whatever you have to do because if you sleep on these you're looking at an aftermarket price of $600 on average.