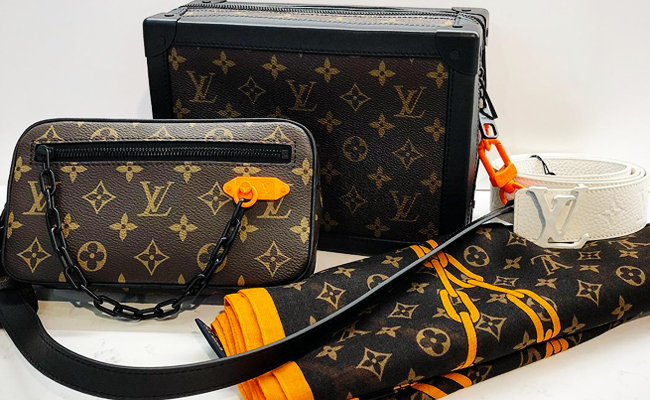 Virgil Abloh has had quite the ride since he first interned at Fendi nine short years ago. He's ridden a wave of adulation that resulted in not only the creation of Abloh's super popular Off-White label but has earned him a position as the artistic director of fashion juggernaut Louis Vuitton's menswear line. Abloh kicked off the release of his first collection as artistic director with a pop-up store in Mayfair London where designs are already being sold.
The pop-up shop was decked out in media that influenced Abloh's designs, with a colorful The Wizard of Oz theme throughout — complete with brick roads and walls of technicolor poppy fields. Light prisms were also a heavy influence on the collection, and prism-like effects can be seen on many of the designs, giving everyone a shimmery and futuristic quality.
The Mayfair pop-up's opening ceremony included visits from famous friends of Abloh including Frank Ocean, Rita Ora, Idris Elba, and Freddie Mercury reincarnate Remi Malek. Some of the collection is popping up across other Louis Vuitton flagship stores, and people are copping the designs and taking to Instagram to share. And, you know, kind of gloat.
The full collection will drop sometime in January, but if you're near London, you can visit the pop-up store from now until October 25th, when it will close its doors. Visit Louis Vuitton's ticketing site in order to reserve your spot, if you want to be one of the first people rocking some Virgil Abloh LV.
Check out some more of the designs below to see if it's for you, or all just hype.