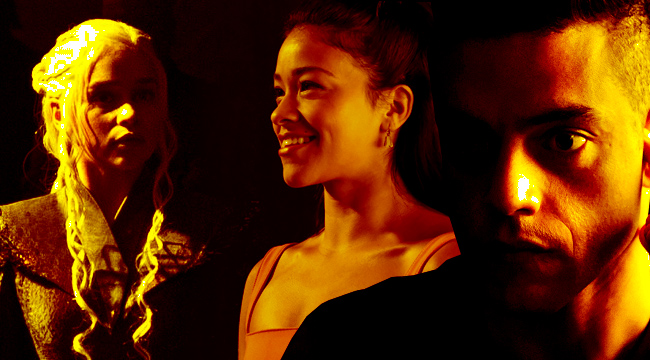 It's easy, and maybe even necessary, to be hyperbolic on the internet. "A boring headline, in this click-based economy?" I mean, which article would you click on: "Here's A Pretty Big Fish, I Guess" or "You'll Never Believe The Size Of This Amazing Fish." I gotta see the size of this amazing fish! Speaking personally, I've tried to tone down the all-caps hype over the years; I only break the "In Case Of Emergency, Exaggerate" glass when I really mean it, and I really mean it when I say: 2019 is going to be the biggest year in the history of television.
That is, of course, the year TV's most popular show, Game of Thrones (if not by ratings, then definitely by cultural omnipresence), comes to an end after eight seasons. But it goes beyond the record-breaking fantasy series — 2019 is also when Watchmen (from returning HBO creator Damon Lindelof), Jordan Peele's Lovecraft Country, and the Drake-produced and Zendaya-starring Euphoria premiere, and when True Detective, Veep, Succession (miss you, Cousin Greg), Barry, Silicon Valley, and Big Little Lies return. And that's just HBO!
The number of returning and premiering series in 2019 is staggering and too unwieldy for a comprehensive list (that's what seasonal previews are for). Instead, we're just going to focus on the shows that are ending next year. There's a good chance one of your favorites is listed below, even outside of Game of Thrones. (There's also the strong possibility that more will be added: we only learned about Mr. Robot last month; we'll update if, say, Nü Roseanne is canceled.) I'm already a mess about no more Unbreakable Kimmy Schmidt.

The Affair

The Big Bang Theory

Broad City

Crazy Ex-Girlfriend

Game of Thrones

Gotham

Homeland

iZombie

Jane the Virgin

Mr. Robot

A Series of Unfortunate Events

Transparent

Unbreakable Kimmy Schmidt

Veep

You're the Worst
These 15 shows have collectively been nominated for over 330 Emmys, which is [scribbles numbers on a whiteboard in an Accountant-style montage] a lot of Emmys. Big Bang Theory star Jim Parsons is a four-time Outstanding Lead Actor in a Comedy Series winner; Veep won Outstanding Comedy Series three years in a row, and Julia Louis-Dreyfus hasn't lost Outstanding Lead Actress in a Comedy Series since 2011; Homeland won Outstanding Drama Series in its first season; and Transparent is (was?) an Emmys and Golden Globes mainstay. Then there's Game of Thrones, which is in category all to itself.
Literally: it has more Emmy wins and nominations than any scripted show ever.
It goes beyond the award-show recognition, though. Crazy Ex-Girlfriend and Jane the Virgin are two of TV's most-adored (if least-watched) shows; You're the Worst preceded the current "rom-coms are good again!" craze by years; Mr. Robot is a visual marvel; and Broad City, well, Broad City is just good.
I should be thinking about all my favorite shows that are coming back or new favorites that are about to premiere — like BoJack Horseman and American Vandal this Friday; Maniac and The Good Place later this month; and The Romanoffs and The Chilling Adventures of Sabrina next month — but instead, I'm trying to make sense of a TV future without the Latin Lover Narrator, or SUNDAY FUNDAY BETTER THAN A MONDAY, or a f*ck ton of cats.
At least our long national bazinga nightmare is coming to an end.