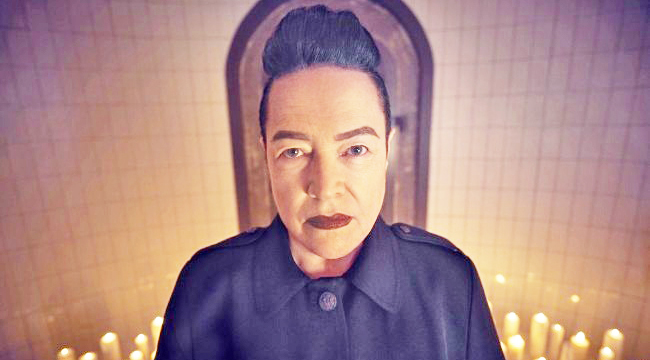 American Horror Story: Apocalypse (FX, 10:00 p.m.) – The residents of Outpost 3 gear up to celebrate All Hallows' Eve, a magical time filled with thinly-veiled threats and nightmare-inducing snake images. Someone's definitely dying tonight, but even more terrifying, Michael Langdon is ready to reveal his plans for the new world order.
Burden of Truth (CW, 8:00 p.m.) – Joanna enlists the help of the only person capable of defeating her father, her mom.
Chicago Med (NBC, 8:00 p.m.) – Season four premieres with Dr. Charles confronting his past, April questioning whether Ethan's sister is using again, and Goodwin clashing with the hospital's new COO.
Empire (Fox, 8:00 p.m.) – Season five kicks off with a two-year time jump as Cookie and Lucious try to pick up the pieces after losing Empire to Eddie Barker. With the family separated, trying to cope with their own personal tragedies, Cookie looks to reclaim their legacy by managing a new rapper.
Survivor (CBS, 8:00 p.m.) – In the season 37 premiere, the castaways must survive a vicious cyclone that stirs up trouble.
The Goldbergs (ABC, 8:00 p.m.) – The family returns for season six as Adam celebrates his 16th birthday by asking for Erica's help to climb the social ladder at school. Meanwhile, Beverly tries to scare Barry and Lainey into calling off their engagement by reminding them of the realities of adulthood.
American Housewife (ABC, 8:30 p.m.) – Season three begins with Katie returning to work as a party planner, which brings new challenges for the family as she struggles to balance home and work life.
Chicago Fire (NBC, 9:00 p.m.) – Season seven premieres with Casey coming to terms with his disastrous personal life while the firehouse welcomes a new member.
Modern Family (ABC, 9:00 p.m.) – Season 10 kicks off with the gang getting together for the annual Fourth of July parade where Jay will be serving as grand marshal. Meanwhile, Haley's goodbye with Arvin before he heads to Switzerland doesn't go as planned after an old flame returns.
Star (Fox, 9:00 p.m.) – Season three picks up three months after Star leaves for her tour. She returns home with some big news and even bigger problems as Cassie and Carlotta's rivalry threatens the future of Midtown Sound.
Big Brother (CBS, 9:00 p.m.) – We made it, fam. The season 20 finale is here.
Single Parents (ABC, 9:30 p.m.) – The premiere of this new family series from ABC follows a single dad struggling to find himself while raising his young daughter. SNL's Taran Killam plays Will, a father drowning in PTA parent meetings and princess dresses, who's rescued by a group of single parents led by Leighton Meester, intent on reminding him that being a good parent doesn't mean sacrificing everything about yourself.
A Million Little Things (ABC, 10:00 p.m.) – ABC hopes to profit off NBC's This Is Us formula by giving us their own take on sadness porn. This show follows a group of friends rocked after one of their own commits suicide.
Chicago P.D. (NBC, 10:00 p.m.) – Season six kicks off with a string of overdoses in the city being blamed on a bad batch of heroin. With Voight suspended, Antonio takes charge but Ruzek struggles under his leadership.
South Park (Comedy Central, 10:00 p.m.) – Season 22 begins with Cartman failing a math test and Randy helping Sharon to get her emotions under control.
LATE NIGHT GUESTS
Jimmy Kimmel Live!: Riz Ahmed, Brad Garrett, Avril Lavigne
The Tonight Show Starring Jimmy Fallon: Alexander Skarsgard, Shaquille O'Neal, Bad Bunny
The Late Show With Stephen Colbert: Candice Bergen, Jacinda Ardern
Late Night With Seth Meyers: Kevin Hart, Kristen Bell, Hari Nef, Ben Sesar
The Late Late Show With James Corden: Max Greenfield, Sophie Turner, Josh Groban
The Daily Show With Trevor Noah: Bill Gates
Conan: Jeffrey Dean Morgan, Jamie Neumann, Chad Daniels