Aren't famous people the best? Yes, we know that they're basically gods up there on the screen and seemingly can do no wrong. But, even they get in trouble every now and then, like us common folk. Sometimes, it's a horrible situation and people get hurt and even die. But, sometimes it's a situation where nobody gets hurt and it ends up just being hilarious.
Wouldn't you know it? We've got ten of those right here.

Pee Wee Herman Gets Busted at a Porno Theater.
Things were going so well for Paul Rubens in 1991. His character, the bowtie clad man-child Pee Wee Herman, had already been featured in two films (the Tim Burton directed Pee Wee's Big Adventure and Big Top Pee Wee from the same guy who directed Grease, believe it or not) and he had just ended a five year run on his CBS TV show. But, just as he was getting ready to take a break from the character, he got caught getting a little too relaxed in an adult theater in Sarasota, FL.
Rubens was arrested and charged with indecent exposure. Suddenly, parents were horrified to realize that this man they had allowed their children to watch was arrested for punching the clown in a porno house. Sadly, all good joke fodder for late night comedians must come to an end. Since then, Rubens has resurrected his career with non-Pee Wee roles in films like Blow and the original Buffy the Vampire Slayer. Just recently, he signed a deal to make a new Pee Wee Herman film for Netflix, with Judd Apatow producing.

Winona Ryder Arrested For Shoplifting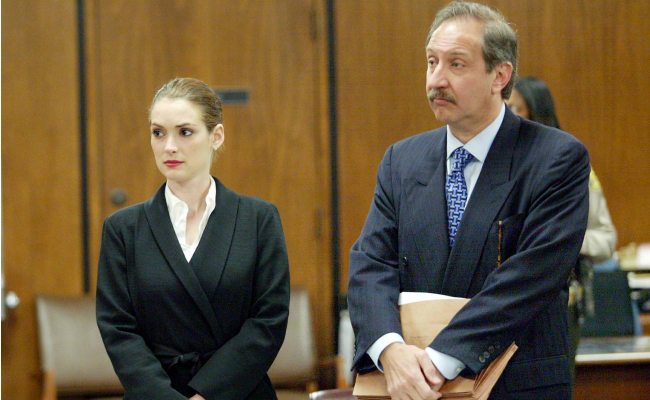 The woman who starred in a movie where she killed her classmates and got away with it (Heathers) wasn't able to get away with stealing clothing from Saks Fifth Avenue.