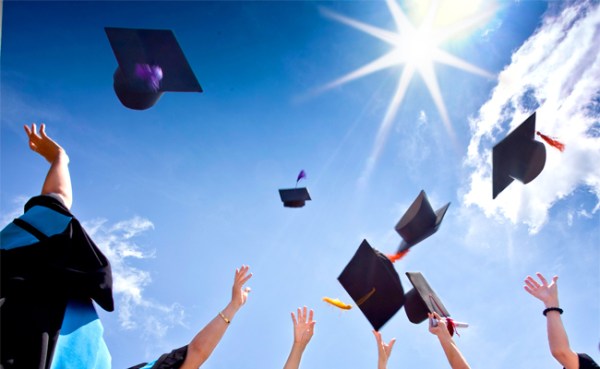 It's that time of year, on the cusp of spring giving way to summer, another batch of recent graduates is about to enter into the real world. So in honor of their bright futures, let's take a look at nine graduation quotes that speak to their shared idealism and their impressive sense of humor.
Right off the bat, "fries before guys" certainly would've been a chuckle-worthy graduation quote, framing it within the larger conversation that this girl had with her father about it is definitely upping the ante.
The excitement of graduation does make one feel powerful enough to blast a Malfoy down a staircase.
Even with the life you leave behind, Netflix will still be there for you. Provided you have a password, of course.
It's very reassuring to know that the good work done on Community is resonating with the youth of today.
An admission as honest as it is clever, it stands as an ode to an internet's worth of digital Cliff's Notes.
An inarguable statement that would find itself at home with Rick Grimes' arsenal of dad jokes, it's also a very nice dig at USA Today.
This one does make you wonder if this was an intentional meta-quote, or if he just said something in passing to someone on the yearbook staff. The best part is it works either way.
This kid. This kid gets it.
While not a graduation quote per se, the stern yet earnest advice of the great Nick Offerman is something to behold for everyone about to walk across the stage to claim their diploma.
Happy graduation, class of 2015. And remember, get a job.