The Guinness Book of World Records once called Arnold Schwarzenegger "the most perfectly developed man in the history of the world." At 67, he remains a completely fascinating individual. His ability to appeal to young and old is unmatched. He is loved by your grandpa and adored by millenials on reddit.
In short, Arnold Schwarzenegger is the greatest pop-culture icon of the last 50 years. Here are just some of his wonderful and motivating moments.

When he compared pumping iron to having sex in a documentary
In 1977, a documentary called Pumping Iron came out, featuring Arnold Schwarzenegger and several other bodybuilders as they competed for the 1975 Mr. Olympia and Mr. Universe bodybuilding contests. At one point in the film, Arnold equates lifting weights to having multiple orgasms.
"It's as satisfying as cumming."

Arnold the Motivator
In March, a young kid took to reddit after a particularly bad weightlifting session, one in which several meatheads at the gym laughed at him. After reading the story, one user asked Arnold Schwarzenegger to pop in with some advice.
He went above and beyond.
Someone told me about this. I hope I'm not too late here, I'm traveling, but I wanted to chime in.

I always say don't be afraid of failure, because how far can you really fall? You found out – to the ground. It's right there. Now you know it isn't anything that should scare you.

You should be proud that you weren't afraid — not embarrassed that you failed. You could have made excuses not to walk into the door, but you didn't. You knew it would be hard, and it would be uncomfortable and it might be awkward – and you did it anyway. That's courage.

I'm proud of you.

The last guy I rooted for broke a world record in the deadlift. You have more in common with him than you think.
First, he started out lifting just the bar, too (when you look at him, he may have been 3 months old at that point). Second, imagine his courage. He walked up to that bar in front of a big audience and television cameras, knowing that not only had he never lifted that much before – NO ONE on earth had – and it was highly likely he would completely fail. You may not think about it this way, but you showed that courage, on a smaller level.
Finally, I'm rooting for you, too. You took the first step and you fell, but at least you fell in the right direction, so get back up and take the next step. Keep moving forward.
When he went undercover at Gold's Gym with one of the worst fake mustaches you'll ever see.
This stunt was supposed to be about promoting health and wellness or something of the sort. But never mind all that, take a look at that fake mustache.

His very awesome YouTube video collection
Arnold often uses his popular YouTube account to uploads videos of his famous movie lines. The best ones are obviously from Kindergarten Cop. Obviously.
That time he helped someone break a world record
Need someone to cheer you on while you deadlift more than a 1,000 pounds? How about history's greatest bodybuilder?

When he pranked fans at Madame Tussauds as the Terminator
Did he really say that?
Forget movie quotes, here are things Arnold Schwarzenegger actually said.
"I just use my muscles as a conversation piece, like someone walking a cheetah down 42nd Street."

"I knew I was a winner back in the late '60s. I knew I was destined for great things. People will say that kind of thinking is totally immodest. I agree. Modesty is not a word that applies to me in any way – I hope it never will."

"Milk is for babies. When you grow up you have to drink beer."

"Money doesn't make you happy. I now have $50 million but I was just as happy when I had $48 million."
That time he pimp-slapped The Miz on WWE Raw
Which later led to Arnold being inducted into the WWE Hall of Fame. No, really.
When he called a Terminator fan and screamed his famous movie quote
[protected-iframe id="037a5492418d61ef7270ac2debac2976-60970621-10222937″ info="" width="650″ height="360″ frameborder="0″ scrolling="no" webkitallowfullscreen="" mozallowfullscreen="" allowfullscreen=""]
No ones knows how to sell an upcoming movie quite like Schwarzenegger (well, maybe The Rock).

Speaking of The Rock, how about that time Arnold crashed Dwayne's reddit AMA?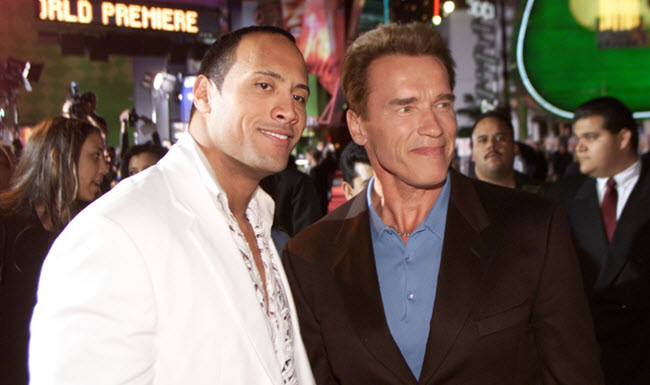 The Rock just wanted to talk fanny packs and Fast and Furious with the millions…and millions of his fans but wait, is that Arnold's music? Who's the real People's Champ here? OK, never mind, these guys are falling all over each other.