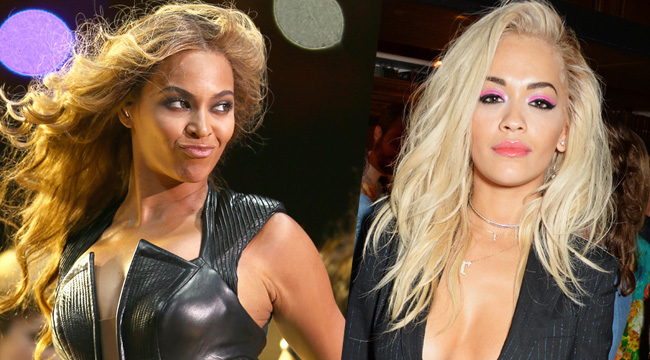 This past weekend, Beyonce spilled her Lemonade album across the internet, and people were absolutely certain it was a real story. As such, even casual observers were convinced that Jay-Z must have stepped out on his lady, and reactions arrived with torches. Then the Beyhive set out to unearth the fabled "Becky with the Good Hair," and they decided that designer Rachel Roy fit the bill. So, they swiftly made her life miserable for a few days. The Hive buzzed all over Roy's Instagram comments, leaving lemon and bee emoji everywhere. At one point, they grew so blinded by fury that they even got upset at celebrity cook Racheal Ray.
A few days later, and Beyonce fans think they've settled upon a different target as "Becky." They're pointing towards British singer Rita Ora, who (until late 2015) used to be a toast of Jay-Z's Roc Nation label until her second album never arrived. Then she sued and got counter sued, and it's safe to say that she's no longer on good terms with Hova. However, the Beyhive found what it believes to be two damning clues, which were embedded in a now-deleted Snapchat. Here are a few screencaps, which reveal Ora's "lemon" bikini and a "J" necklace.

Lo and behold, the fans started digging through Instagram too. They dug up a month-old photo of Ora wearing the same necklace. And whaddya know, she does have good hair.
The newest photos on Ora's Instagram are hit the hardest by women who feel just as violated as the character Beyonce played in her visual album.
Yes, the attacks just keep on coming. Ora is hopefully not checking out these comments.
Well, the good news is that the internet will likely find a new "Becky" in a few days. If Ora can tolerate the onslaught and remain scarce, perhaps a different possibility shall be found. Then folks will feel badly for her too.