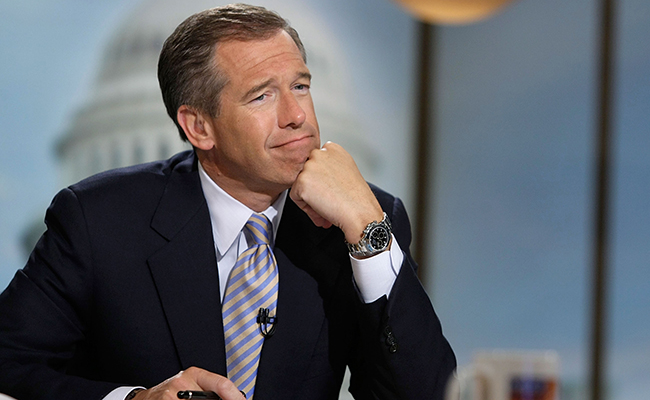 The final number of "embellishments" hasn't been finalized yet, but The Washington Post reports that a source close to the investigation of Brian Williams at NBC Nightly News has revealed that the veteran reporter may have lied to the public more than 10 times about his experiences covering breaking and dangerous events.
The investigation began when Williams' account of being on a helicopter damaged by rocket fire during the Iraq War was questioned and contested by others who had been on the same aircraft. The anonymous source told The Post that this exaggeration may have only been the beginning of Williams' untruths.
The investigators, led by NBC News senior executive producer Richard Esposito, have also raised doubts about Williams' comments about his experiences covering Israel's military action against Hezbollah in Lebanon in 2006. In an interview with a student-run television station at Fairfield University in Connecticut in 2007, Williams said he saw rockets passing "just beneath" the Israel helicopter in which he was traveling. But Williams gave a less harrowing account of the same trip in an NBC News blog a year earlier.
In February, Williams apologized publicly for not being honest about his experiences in Iraq. He was quickly suspended without pay until August. Now that more concerns have been raised about his unethical behavior, it's possible that he won't be returning to NBC Nightly News at all. He will, however, likely have enough honest material for a bestselling book about the ordeal. Previously, Williams blamed his exaggerations on a potential brain tumor.
(Source: The Washington Post)