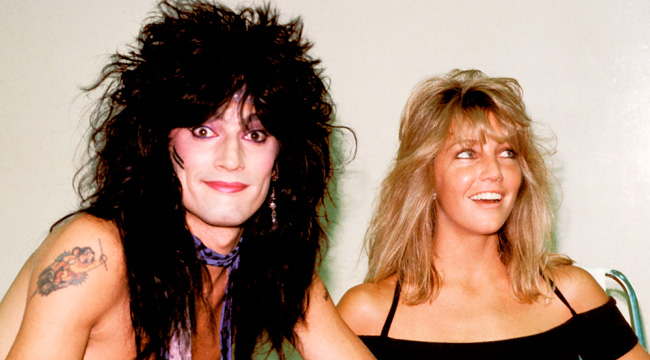 Heather Locklear is up to something sentimental. The results couldn't be more perplexing, because she's sidling up to her first ex-husband, Tommy Lee, on social media. These two go way back to 1980s hair-band heaven, and they seemed like the oddest pair when they tied the knot in 1986. Locklear once told a reporter why they clicked as a couple: "Tommy doesn't worship the devil; he worships me." This was, of course, her way of laughing at rumors that Motley Crue was all up in Satan's business. The pair divorced after seven years amid the usual talk of adultery. When it comes to actors and rock stars, achieving a loyal marriage can be an especially intense challenge.
Regardless of the circumstances, most divorced people don't keep track of their romantic milestone dates from disastrous unions, let alone celebrate them. And they certainly don't send affectionate tidings to their ex-spouses at such moments. Locklear must feel differently. On Tuesday, she wished Lee a happy 30th anniversary by posting a wedding photo on Instagram.
Look at all that hair. Locklear didn't stop there. She also posted a tongue-filled kissing image (with a "Happy 30 years baby" caption) for the internet's viewing pleasure. This could be the most excitement Lee's had since getting stuck in his drum coaster. What does it mean?
Well, perhaps Locklear is simply feeling a little nostalgic these days. Not to burst any hair-metal fan's bubble — though this will — Locklear recently posted an image of herself with another ex-husband. Four months ago, this cuddly photo of the lady with Richie Sambora miraculously appeared on her Instagram page too.
Will Locklear post photos of Jack Wagner next? He doesn't have the massive hair for this social-media parade.