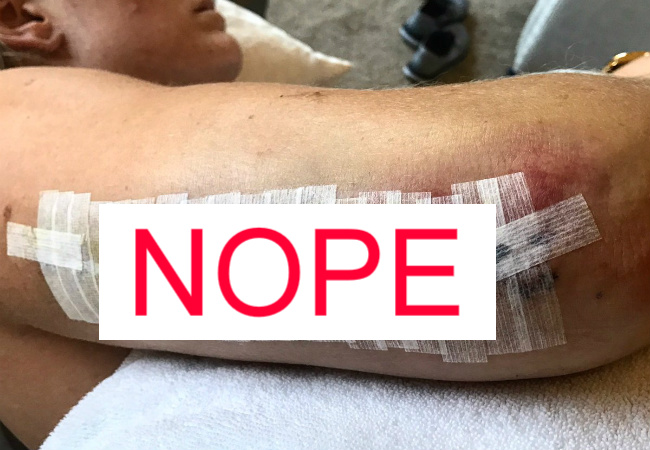 Lindsey Vonn just can't catch a break. The Olympic skier has suffered a number of serious injuries on the slopes throughout her career, including but not limited to concussions, ACL/MCL tears, ankle injuries, and other various ailments and accidents sprinkled throughout the seasons. Not to mention the weirder injuries like slicing her hand open with a champagne bottle or hurting herself when separating her dogs in a fight.
It seems like every other year Vonn is forced to struggle through a drastic setback or hospitalization just to get her career back on track. Even so, she has managed to salvage a successful season from the wreckage most years and as such is within 11 wins of claiming the overall World Cup wins record that has stood since 1989.
On Friday, Vonn got hurt during training yet again. This time, she "severely fractured the the humerus bone in her arm" and had to undergo surgery in Colorado.
https://www.facebook.com/LindseyVonnUSA/posts/10154894159979728
She posted a Facebook update with some gnarly x-rays, and followed that up with a tweet including a picture of her post-surgery arm. Unsurprisingly, it's super gross.
Vonn also tweeted what everybody else was thinking – namely that it's crazy that these things keep happening to her year after year – but she vowed to never give up.
https://twitter.com/lindseyvonn/status/797197345146490880
She also makes a good point that her knees weren't affected in this accident, making the road to a comeback that much easier. With only a few weeks before the season is set to kick off, Vonn might not be able to join other U.S. skiers in competition right from the start but she will have plenty of time to rest up and slather on that cocoa butter. That's not a scar she wants sticking around longer than necessary.