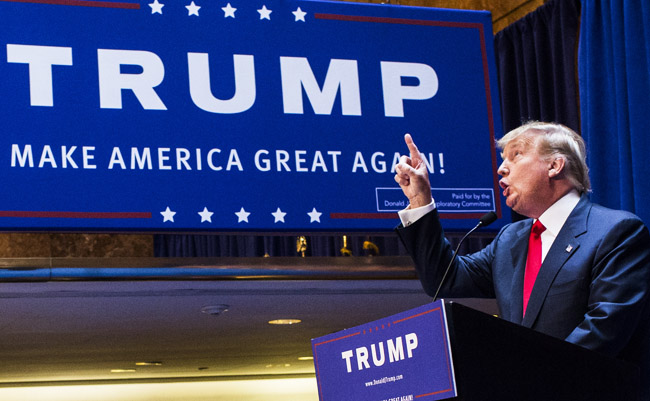 After having his pageant dropped by Univision and subsequently being fired by NBC, things are continuing to go not-so-great for Donald Trump, who has now had his line of menswear pulled from Macy's stores. The department store chain made the announcement this morning after a MoveOn Petition claiming that Trump "does not reflect 'the magic of Macy's'" collected more than 700,000 signatures. So… how's that presidential campaign going?
In a statement released to CNN, Macy's said:
"We are disappointed and distressed by recent remarks about immigrants from Mexico. We do not believe the disparaging characterizations portray an accurate picture of the many Mexicans, Mexican Americans and Latinos who have made so many valuable contributions to the success of our nation," Macy's said.

"In light of statements made by Donald Trump, which are inconsistent with Macy's values, we have decided to discontinue our business relationship with Mr. Trump and will phase-out the Trump menswear collection, which has been sold at Macy's since 2004."
In typical trolling fashion, Donald Trump immediately fired back with a statement of his own, claiming that Macy's "caved at the first sight of potential difficulty with special interest groups who are nothing more than professional agitators," which sounds about right. I assume the next step will be Trump slapping Macy's with a lawsuit for another cartoonish, super-villain amount of money.
On the plus side, this downward spiral has been entertaining, to say the least, and by the time he inevitably fails to clinch the Republican nomination, Trump's influence and power over the media will be a shell of what it once was. Can you imagine? A Trump-less world? Maybe Kim Kardashian should run for president next.