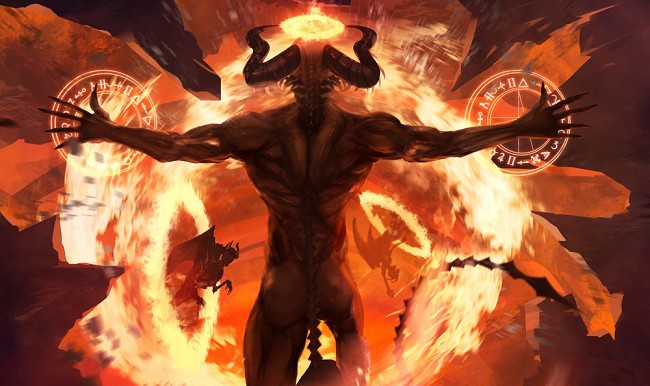 For the past three years, a haunted house attraction on Long Island has been striking fear into the souls of many locals who like to spend their Halloween season freaking themselves out. But at least one of those souls may have been wrongfully signed over to Satan and its owner would really like it back. In fact, he's suing the attraction for "a variety of damages" and the lawsuit nearly canceled the event this year.
Last year, Dead of Night, the walk-through horror attraction which is concluding its three-year run this year, featured a devilish lawyer character named Lou Cifer who asked participants to sign a fake contract surrendering their souls to Satan. The whole thing, while going for real scares, is generally a pretty silly affair as well in that no one is actually signing over their soul. Apparently, the unhappy customer called the owner of the haunted house (who, in full disclosure, is a good friend of mine) multiple times saying that he "genuinely believes that he offered up his soul to the Devil and almost a year later, hired an attorney to get it back for him."
The conflict got as far as involving the insurance company for Dead of Night to sort through the mess. A lawyer for the customer requested a document from the owner of Dead of Night stating that there was no soul theft or sale intended and that the fake contract "was never meant to be satanic in nature nor intended to conflict with the teachings of Jesus Christ."
Why anyone with religious convictions that strong would enter a haunted attraction featuring a contract with a character named Lou Cifer thinking it was real is, I suppose, a mystery I am not qualified to answer.
(via iHorror)