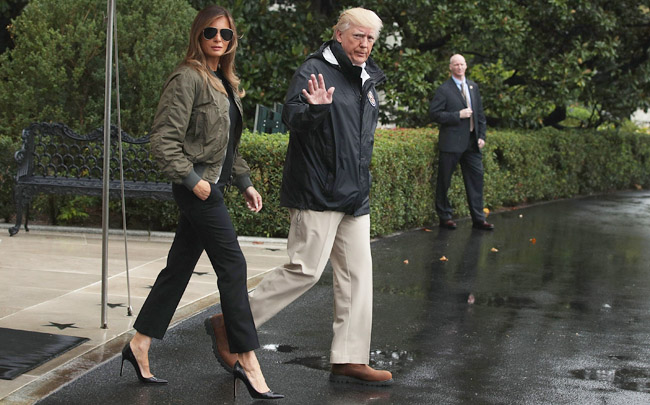 President Trump and First Lady Melania Trump are currently on their way to Texas in the wake of Hurricane Harvey, as Trump helpfully tweeted to remind everyone on Tuesday morning — although neither will visit the flood-ravaged Houston as to not disturb the ongoing emergency response. Although it's still unclear exactly where in Texas the president and first lady will visit or for how long, it's been speculated that the Trumps will be going closer to where the hurricane hit land.
Photographers caught the couple leaving Washington D.C. for the trip, and many couldn't help noticing Melania's, uh, interesting choice in footwear headed to a place that's been wracked by a natural disaster: a pair of six inch black stiletto heels. Now on one hand, do we have more to worry about right now than what the first lady decides to wear on a trip to visit flood victims? Sure. On the other hand, a little discretion couldn't hurt. Remember how much heat people gave to Michelle Obama for having the nerve to show off her bare arms?
Unsurprisingly, the photos got picked up on Twitter where many were quick to criticize or have a laugh at Melania's heels.
With any luck, the rest of their trip should go much more smoothly.
UPDATE: Upon having arrived in Texas Mrs. Trump has changed outfits, and is now sporting white sneakers and a "FLOTUS" hat: