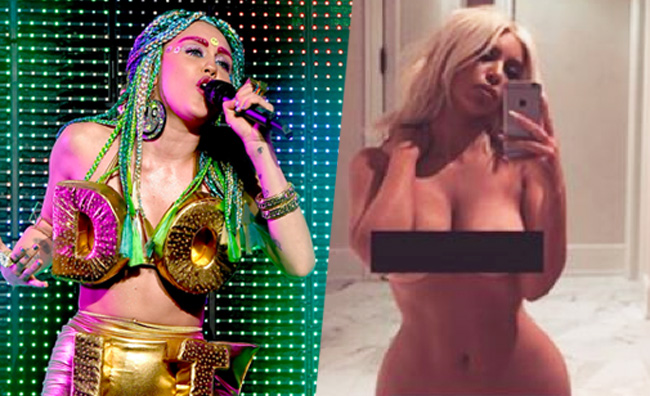 For some reason, Miley Cyrus decided to give her opinion on the Twitter melee that followed Kim Kardashian posting a nude selfie of herself Monday, which had everyone from Bette Midler to Chloë Moretz to "Little Pete" from The Adventures of Pete and Pete weighing in. And ladies, Ms. Cyrus — patron saint of all that is decent — would like to inform you that you are all acting "tacky AF."
Cyrus conveniently posted the message along with Kardashian's butt emoji on International Women's Day, to remind her fellow women that we all need to stick together and support one another and "put the C-U-Next Tuesday-ness aside for one [bleeping] day." Unfortunately her message of love and support gets just a little bit obscured considering that just three days ago, the "Wrecking Ball" singer posted a couple of unfortunate throwback photos of Fuller House star Jodie Sweetin. At the time the photos were taken, Sweetin had been going through some personal troubles including serious drug addiction, which she has since managed to overcome.
So, this juxtaposition puts her at a crossroads. Which is it? Love and support to all women? But only when she's not taking time out of her busy schedule to cyber bully a fellow child star? We can only hope that someday, down the road, no one else thinks to rub Miley's own previously questionable decisions back in her face. Or maybe they will turn the other cheek… so to speak.
Now Watch: Kim Kardashian's Nude Selfie Ignites A Twitter War