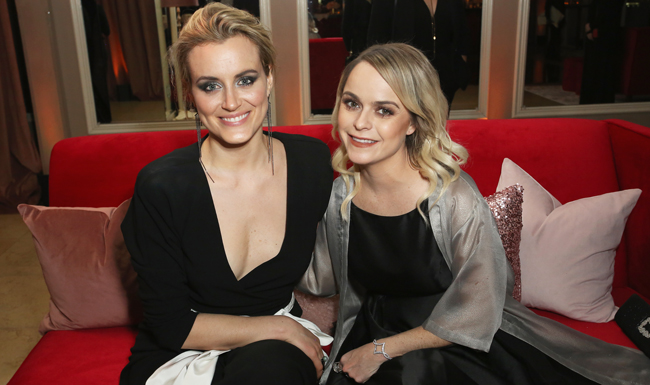 Noticeably absent from the Hollywood premiere for the seventh and final season of Orange is the New Black last week was Taryn Manning, who stars as Tiffany "Pennsatucky" Doggett on the popular Netflix series. Fueling rumors, several lengthy diatribes were posted from Manning's Instagram account over the weekend, which subsequently went dark for several hours on Sunday morning.
Once restored, Manning posted an update claiming that her account had been "epically hacked" and that she was sorry. Likewise, her Instagram bio currently reads, "My account is hacked and I am sorry for these messages:( i am back in now and was able to erase!"
According to TooFab, there was a newly posted video of Manning singing, which has since likewise been removed.
In the original posts, Manning appeared to have lashed out against fame, throwing her "team" of agents, managers and lawyers under the bus for not doing anything to help her when she was struggling. The posts also accused her costars of not supporting her, at one point adding, "Not one cast member cares about me. Just watch."
The posts were captured in screenshots and since tweeted by a fan who wrote, "Uhhhh Taryn Manning really needs to step away from Instagram and into a therapist's office."
To ostensibly prove her wrong, Lori Petty (who stars as "Lolly" on the series) commented on the original post writing, "Hey. I love you," with three heart emojis — to which Manning appeared to respond with the following:
"Thx bubs I know you do. And I love you. I am giving up everything to speak on how awful this career is and how awful we are treated. How I never knew if I was coming back yet I had seven optional seasons. How I didn't even know how to plan my life, organize anything cause everything was a secret. Self serving bulls—t, for whatever sick agenda. How some of the most dear characters were just not there anymore. My pals. F—k this show. This show hurt me so bad."
Although wholly disturbing, whoever composed the lengthy rants assured that they were not experiencing suicidal thoughts, so hopefully that person will get the help they need.