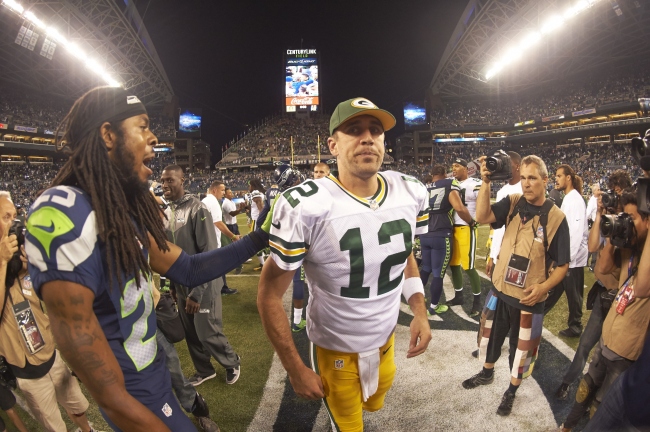 A somewhat gimpy Aaron Rodgers returns to CenturyLink Field, where he and the Packers were soundly defeated in the season's opening game, during which Green Bay did not throw at Richard Sherman because they thought they were gaming the Seattle defense by lining up Jarrett Boykin on Sherman, as opposed to Jordy Nelson or Randall Cobb.
That hardly proved to be the silver bullet for Green Bay. The presumption is now that the Packers will abandon that strategy and go after Sherman at least a little today. I mean, I can't say I endorse "well, not throwing at him didn't work so let's throw at him" as a gameplan, though I doubt it will be that simple.
Weather is expected to be as dreary and wet as we assume Seattle always is. As you might expect, rain and winds in excess of 10 mph have a deleterious effect on the passing game. So things aren't shaping up too great for the Packers so far.
The Seahawks ran for more than 200 yards in the Week 1 meeting, though at least the Packers won't have to worry about the 20 percent that Percy Harvin accounted for. That doesn't inspire confidence that the Packers can win a grind-it-out type of game in Seattle. Even if the Packers could somehow win the battle at the line of scrimmage, I'm not sure Mike McCarthy can be counted on not to try to air it out anyway.
So a game that already looked pretty favorable for the Seahawks now looks a little more so. Aaron Rodgers made some amazing throws playing through injury last week. He'll need plenty more today if Green Bay hopes to get to Glendale.