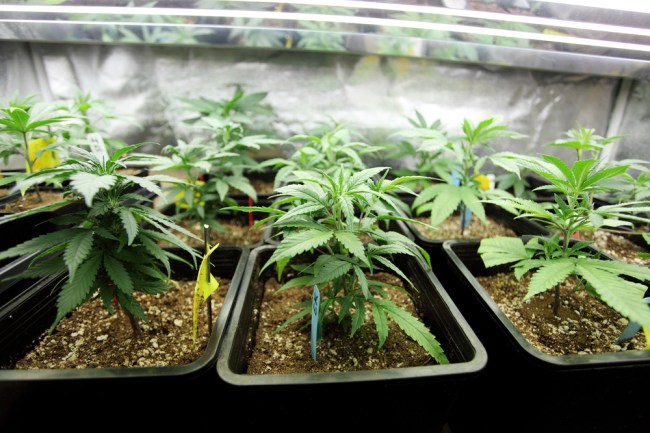 Colorado, Washington, and a few other states either have or will soon acquire legalized marijuana, thereby encouraging high school students from across the country to apply to their universities. Yet weed is still illegal in the rest of the country, and all the good press available still isn't enough to discourage the bad bits. Such is especially the case for San Diego and New York, where two separate drug busts went down earlier this week.
On Tuesday, investigators in Brooklyn discovered a secret underground marijuana farm beneath the Dell's Maraschino Cherries Company factory. According to the NYT:
[The] scope of the operation made it unlikely that Mr. Mondella was the only person involved. Spanning about 2,500 square feet, the underground complex included an office, a large grow room, a storage area, a freezer for the harvested plants and an elevator. A network of 120 high-end growing lamps shined on the plants with intensities that varied depending on each plant's size; an irrigation system watered them. Investigators recovered about 60 types of marijuana seeds.

The investigators had never seen a larger operation in New York City, the official said.

"The way you have to set that up, there's got to be plumbers and electricians working off the books who are very sophisticated," he said, "and it wasn't Arthur Mondella, as far as we know, that had that kind of skills."
Aside from Mondella, who shot himself on Tuesday, authorities do not know who else was or may have been involved in the underground operation.
Three time zones and thousands of miles to the west, a record-breaking pot bust was made at the Otay Mesa cargo port just outside of San Diego. What appeared to be a mattress shipment turned out to be something else entirely, albeit (arguably) just as comfortable. According to NBC San Diego:
As the truck was docked for a more intense examination, a CBP officer raised the trailer's door and found plastic-wrapped packages, stacked floor to ceiling and front to back, filling nearly the entire truck. Just a few mattresses were stacked along the wall at the other end.

Officers tallied the find, which came to 1,296 packages containing about 31,598 pounds of marijuana. That load has an estimated street value of about $18.96 million.
If confirmed, this find will be the largest ever in the Otay Mesa cargo port's history, and the second largest drug bust at a United States border crossing. Let the party begin!
(Via BroBible, NBC San Diego, and The New York Times)