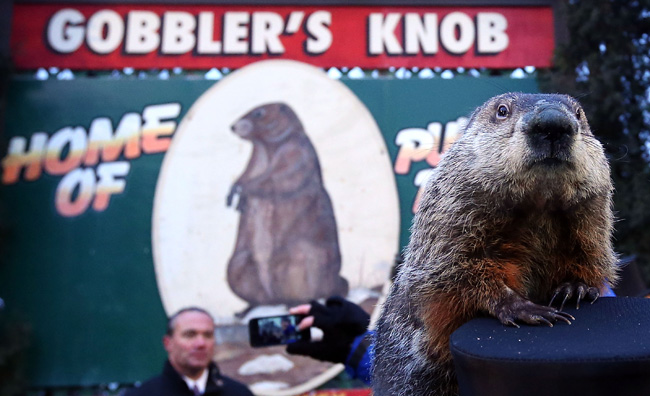 Happy Groundhog Day, everyone! It looks like we have a reason to celebrate this one, because this morning in Gobbler's Knob, Pennsylvania, famed meteorologist rodent Punxsutawney Phil did not see his shadow. That means that spring is supposedly coming early! Although I don't know if we have Phil to thank so much as El Niño, which has been responsible for higher than average temperatures across much of the country this winter — with parts of the northeast topping out in the 60s this week.
Still, if you believe in that sort of thing, this is excellent news, for sure.
Following three taps on the door to the burrow, Phil, the "Prognosticator of prognosticators," emerged from his burrow shortly after 7:20 a.m., making the announcement in "groundhogese" to Bill Deeley, the president of the "Inner Circle," a group tasked with caring for Phil and organizing the event each year.

The president, legend states, is the only person capable of understanding Punxsutawney Phil.
According to the National Oceanic and Atmospheric Administration, Phil's accuracy is around 45 percent. I've never taken a statistic class, but that puts his prediction at slightly worse odds than flipping a coin. Despite these crap odds, the beloved tradition of Groundhog Day dates back to 1887 in the United States, and likely isn't going anywhere anytime soon.
(Via CNN)