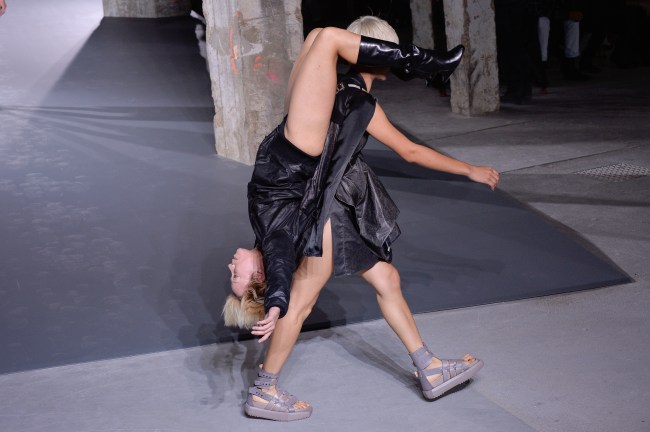 Rick Owens is a fashion designer who likes to push the boundaries of what's risqué and tasteless, blending controversy and creativity in his recent lines of duds. One such presentation occurred at Parisian modern art museum Palais de Tokyo. Called "Defile," the catwalk featured male models strutting their stuff with garments devoid of crotch fabric, which, of course, allowed the male form to swing freely from its vestments. (You can see some of the pictures of that event here, but obviously, it's not safe for work.)
Owens — no stranger to actually physically attacking his models — is certainly not interested in conforming to the standards of high fashion, a subsection whose inherent qualities calls for a bit of deviation and doses of counterculture. Owens seems to be going above and beyond that status quo with fashion programs meant to truly challenge all notions of normality. Take, for example, his newest undertaking, which features a line of models strutting down the catwalk with human counterparts strapped to their person in a variety of positions.
Owens, for his part, attempted to postulate his inspiration for the fashion line in an interview with Dazed Digital:
In the Spring men's collection which shares the same name (Cyclops), that focussed vision was propulsive and aggressive. When applied to women's, I see that focussed vision being more about nourishment, sisterhood/motherhood and regeneration; women raising women, women becoming women, and women supporting women – a world of women I know little about and can only attempt to amuse in my own small way…Straps can be about restraint but here they are all about support and cradling. Straps here become loving ribbons.
I'll be honest here. I'm not quite sure why this is considered fashion and not performance art. Then again, it's likely I have no clue what I'm talking about. Part of me wants to commend Owens for continually resetting the boundaries of art and fashion; it's a task I think needs doing. The other part of me sees this as a soon-to-be crossfit workout. Anyway, keep doing your thing, Owens. Just try to keep from punching models from now on; there doesn't see to be any artistic value in that.