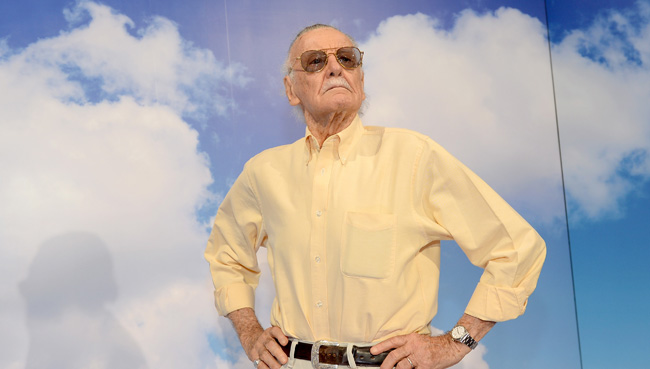 Stan Lee is Mr. Marvel, he's Stan The Man, and he's apparently also a pretty prickly person. A new lawsuit alleges that Lee and his daughter were verbally abusive and unrelenting against an ex-assistant. Shawn Lukaszewicz is suing the man behind many memorable Marvel characters, his daughter Joan Celia Lee, his wife Joan, and their corporations Stan Lee Productions and Pow! Entertainment.
The court documents are full of juicy tidbits that allegedly happened between the Lees and Lukaszewicz, almost too much to include in just one story. It's definitely worth a read, but the parts on Stan Lee are some of the most interesting because it doesn't seem like the lovable guy you see at conventions and in the cameos at all. Courthouse News provides the details:
Lukaszewicz says his initial gig for the Lee family was to set up and help manage a booth at Stan Lee's ComiKaze convention in November last year. He was "enthusiastic and excited about his opportunity to work with the legendary Stan Lee along with his wife and daughter," believing that he had "landed his dream job in the entertainment industry," Lukaszewicz says in the lengthy complaint. But when Stan Lee visited the booth, he told Lukaszewicz he had done a "sh*tty job" and called the booth "f*cking embarrassing," according to the complaint.
And then there's the tale of when he delivered mail to Lee and met with some resistance on the intercom:
When he delivered mail and documents to Stan Lee at his daughter's request, Lee answered the intercom by cursing him and telling him to "get the f*ck out and never ring my damn doorbell again," Lukaszewicz says.
Then finally there is the moment where Stan Lee allegedly missed an appointment with Manny Pacquaio before the Floyd Mayweather battle and took out his frustrations on his ex-assistant:
While Lukaszewicz drove Stan Lee to an April meeting with boxing champion Manny Pacquiao, "Stan Lee became very abusive towards plaintiff for driving too slow as Mr. Pacquiao was about to depart to Las Vegas for his May 1, 2015 fight with [Floyd Mayweather]," the complaint states.

When Pacquiao failed to show at the meeting, Lee called Lukaszewicz a "f*cking idiot," and added: "You wasted my time. Now everyone at the office thinks you are a f*cking asshole," according to the complaint.
Lukaszewicz was allegedly let go after refusing to drive around Lee's daughter's car after she had been smoking marijuana in it during a weekend business trip in San Francisco. She apparently had the car pulled over and "abandoned" him in San Francisco, telling him the following:
"Get out of my f*cking car. You are done. You are done,"
If true, this certainly changes the way a lot of people look at Lee in the public light. It's hard to truly pin down because a lot of the complaints just seem entirely out of focus or so odd, particularly those involving Lee. We'll have to keep an eye on the case and hope to learn more as time moves.