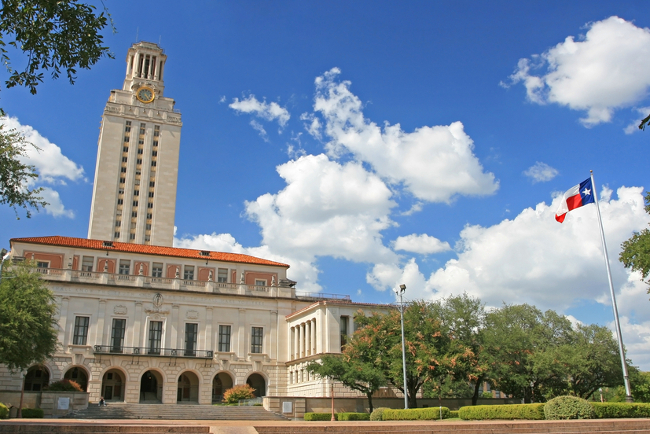 A fraternity from the University of Texas at Austin is in hot water today after it was revealed that members hosted a "traditional Old West" party on Saturday night that was anything but traditional and/or Old West. According to the Daily Texan, the Texas FIJI chapter had allegedly spread the word that while their annual FIJI Marshals event was billed as a "western-themed party," it was actually "communicated as 'border patrol.'" More specifically, some members and their guests dressed in sombreros and ponchos, or as construction workers with names like "Jefe" and "Pablo Sanchez" printed on their hard hats. Others wore army camouflage and played the role of – you guessed it – border patrol.
The Daily Texan also reports (with photo evidence) that there were various Mexican-themed cutouts and displays for people to take photos with. However, the chapter president said that this is all just a big misunderstanding.
"We notified our chapter prior to the party via email that the theme was Western — not south of the border or anything Mexican related," [UT FIJI President Andrew] Campbell said in an emailed statement. "It was our intention to monitor and enforce this policy to the best of our ability."

Campbell said the chapter did not endorse insensitivity.

"If any individual or cultural groups were offended, Texas Fiji apologizes for any insensitivity that our guests or members may have portrayed," Campbell said. "It is never Texas Fiji's intent to alienate or demean any ethnic group." (Via the Daily Texan)
With the way that college kids (or anyone in general) gets in trouble for insensitive or offensive emails these days, and sometimes even behavior that is far worse than some poorly-written words, you'd think that these bros and babes would be a little wiser. You can't get away with anything in this era of social media and endless availability, no matter how drunk you get and pretend it never happened like other people say it did.