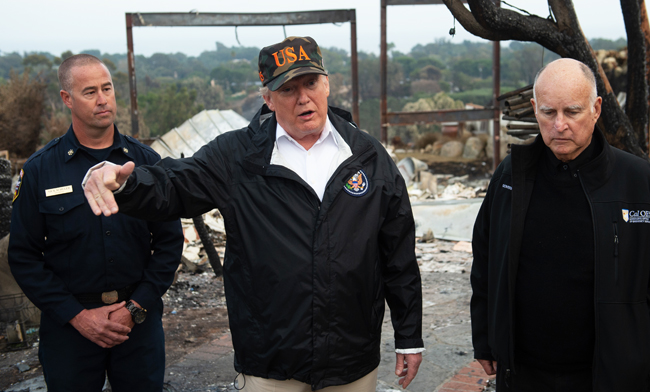 While visiting wildfire-ravaged areas of California over the weekend, President Donald Trump committed a few gaffes. In addition to mistakenly calling the burned-to-the-ground city of Paradise "pleasure," repeatedly, Trump also once again made the claim that "raking" could have prevented the fires — this time, citing an apparently fabricated conversation with Finnish president Sauli Niinistö.
"You look at other countries where they do it differently and it's a whole different story, Trump told reporters on Saturday. "I was with the president of Finland and he said, 'We're a forest nation.' He called it a forest nation. And they spend a lot of time on raking and cleaning and doing things. And they don't have any problem. And when it is, it's a very small problem."
Although President Niinistö does in fact recall a conversation with Trump about the fires while visiting Paris for Veterans Day observations last weekend, he says the subject of "raking" was not discussed.
"I mentioned him that Finland is a land covered by forests and we also have a good monitoring system and network," Niinistö told the Finnish newspaper Ilta-Sanomat on Sunday, and in particular remembers telling Trump "we take care of our forests."
In the wake of Trump's disputed remarks, people in Finland are taking to Twitter with the creative hashtags #Rake News and #RakeAmericaGreatAgain to troll the American president, sharing memes and photos.
Even Better Midler got in on the action:
Well, at least he's no longer threatening to cut off federal aid to California, even if he is still basically blaming the state for its own wildfires, so that's something.