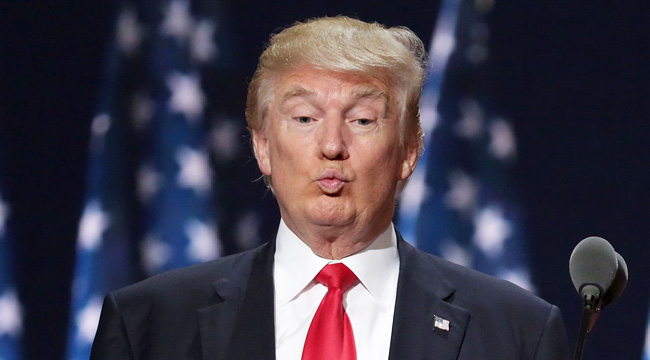 Visitors who swing by Trump Tower in New York City may find themselves distracted by a new t-shirt available in the gift shop. The garment in question plays off a joke aimed at the press, but Trump's efforts to make fun of his sworn enemy may not have been properly mapped out. Of course, Trump is never above trying to capitalize on his fame, and Trump wine, steaks, and hats are only a few examples.
However, his newest piece of merchandise, as photographed by Politico's chief Washington correspondent Edward-Isaac Dovere, is a bit of a head scratcher. The shirt simply reads, "Shut The Fake Up Media."
This is an obvious insult that's aimed at the "fake news" that Trump uses to describe anything he doesn't like. But the play on words looks as if they were going for a variation of "shut the f*ck up." Somewhere, lines got crossed along the way, and the shirt and its nonsensical wording got roasted:
However, this mistake — if it was one — shouldn't surprise anyone. Trump has been known to make spelling errors from time to time. However, he cannot tweet and delete this t-shirt or the jokes, which might annoy him, but he has other things to complain about first.
(Via Politico)