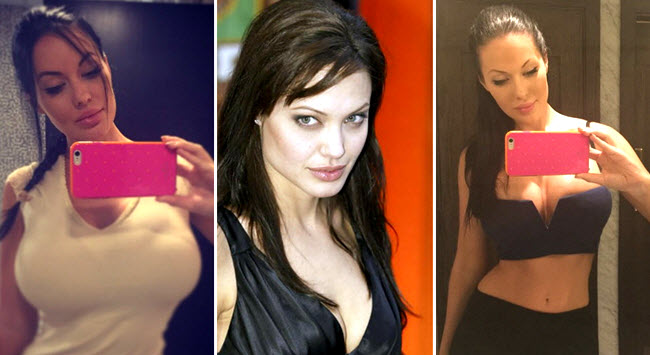 Meet Veronika Black, a woman who claims to be Angelina Jolie's real-life doppelganger. Black says she's often confused for the movie star because of her black hair and full lips. But the comparisons stop there, as the model flaunts size 32JJ breasts.
Black is quite the confident person, telling the Daily Mail that men often get nervous and start shaking when she talks to them.
'I've been single for over a year now after a five-year relationship ended, and I'd love to meet someone special.
'I particularly like older men with a bit of stubble – just like Brad Pitt.
'But to be honest, I think I scare men off. Men seem to be intimidated by the way I look.
Black has undergone two breast augmentations, but says there was a time when she was "flat-chested" and "chubby." Suffice it to say, she's no longer either of those things, thanks in large part to plastic surgery. She now boasts more than 650,000 followers on Instagram and thousands more on Twitter.

Her career is obviously on the verge of taking off. She's getting attention from tabloids like Us Magazine and E! Online, and she'll soon being doing photoshoots and videos and oh, it's too late. Veronika Black has taken over the Internet.
(Via Daily Mail)
And for more you may have missed on the web…