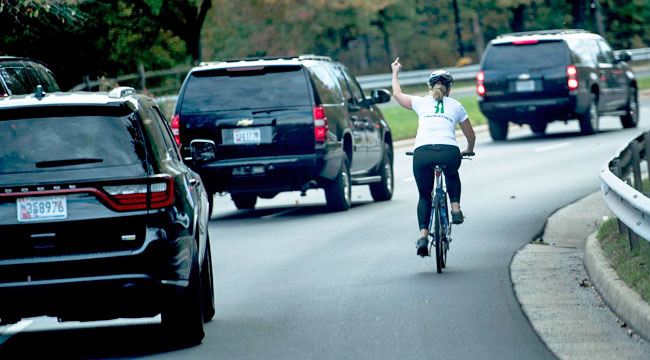 Last week, the above image went viral of a woman giving Donald Trump's motorcade the middle finger, as the president left the Trump National Golf Course in Sterling, Virginia after a successful weekend golfing trip. The woman has since been identified as 50-year-old mother of two Juli Briskman, and the gesture resulted in her losing her job at government contractor Akima LLC, where she had been employed for just over six months in the marketing and communications department.
Briskman says that after the image started making the rounds she decided to give full disclosure to Akima's HR department. The following day, she was called into a meeting by her bosses and informed that she had violated the company's social media policy by using it as her Facebook and Twitter profile photo. "They said, 'We're separating from you,'" Briskman told the Huffington Post. "Basically, you cannot have 'lewd' or 'obscene' things in your social media. So they were calling flipping him off 'obscene.'"
The move seems especially unfair given that Briskman, a Democrat, says that another employee had previously been reprimanded for calling someone a "f***ing Libtard asshole" on Facebook when his account featured the company's logo as his cover photo, but had been only ordered to remove the post. Still, she says she doesn't regret flipping off the president.
"He was passing by and my blood just started to boil," she said. "I'm thinking, DACA recipients are getting kicked out. He pulled ads for open enrollment in Obamacare. Only one-third of Puerto Rico has power. I'm thinking, he's at the damn golf course again."

"I flipped off the motorcade a number of times," she added.
Briskman is hoping to land a job with an organization whose cause she believes in, such as Planned Parenthood or PETA. The exposure she's getting over her story certainly won't hurt her chances.
(Via Huffington Post)