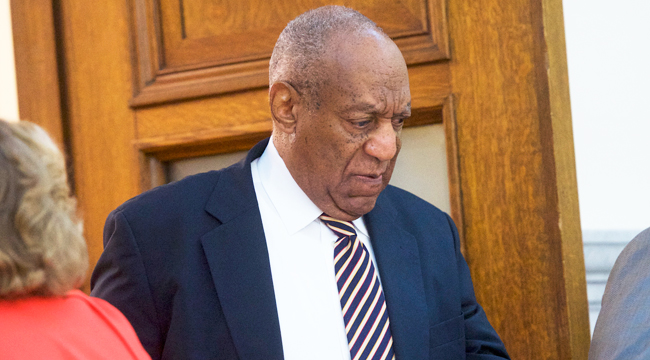 Almost immediately after the jury read the guilty verdict in Bill Cosby's sexual assault retrial, the disgraced comedian had an outburst in the courtroom, lashing out and swearing at District Attorney Kevin Steele. As Philly.com reveals, the incident took place once Montgomery County District Attorney Kevin Steele argued that Cosby's bail should be revoked because he represents a flight risk due to his substantial resources.
Cosby immediately recoiled. "He doesn't have a private plane, you a**hole," Cosby yelled at Steele. "I'm sick of it, you a**hole."
Ultimately, Cosby was allowed to remain free on bail while awaiting sentencing (he could see up to 30 years behind bars) but was told to stay at his home. Outside the courthouse, Cosby's lead attorney, Tom Meseraeau, expressed his disappointment with the verdict and stated the defense's plan to file an appeal.
Cosby was found guilty of three separate counts of aggravated indecent assault for drugging and assaulting Andrea Constand. Each count carries a ten-year-sentence, but it is believed that Cosby will could them concurrently. His conviction has been hailed as a victory by the #MeToo movement.
(Via Philly.com)