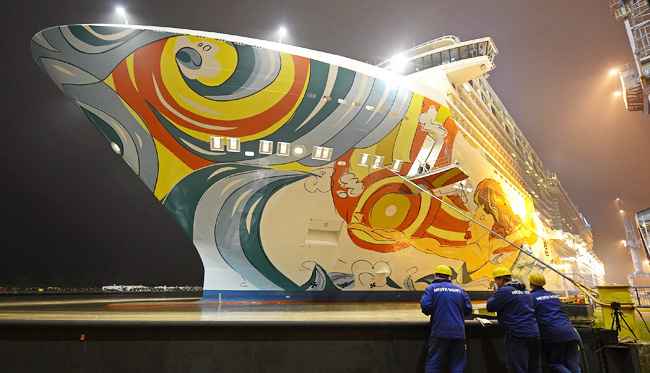 Winter Storm Grayson, also known as the "bomb cyclone," has sent a chunk of the country into a frigid world with temps sinking well below zero under blizzard conditions. It's rough enough on the land, but it turns out that situation can be (predictably) much worse when it's experienced on the ocean. The Norwegian Breakaway cruise ship decided to ignore the weather reports about Grayson and underestimated its strength, leading to passengers having to experience a harrowing ordeal at sea. This includes terrifyingly high seas, frozen decks, and flooded hallways.
Many of the passengers spoke to CBS2 in New York after the ship arrived, offering the type of horror stories that would ward anybody away from ever going on a cruise:
"I thought I'd never be in a situation where I would say that's the scariest moment of my life. This was the worst moment of my life," said Karoline Ross, speaking exclusively with CBS2's Carolyn Gusoff. "When you're on a boat in the middle of the ocean and water is pouring down the stairs, you're thinking 'this is not going to end well," Karoline said.
Other passengers continued to share images from onboard, showing the wild ocean waters rocking the ship:
And also showing how a glaze of ice managed to cover not only the outside of the ship but some parts of the inside too:
Norwegian Cruise Line defended its decision to sail back in the middle of the storm with a pair of statements to CBS2, claiming that a delay in the arrival of the ship and "stronger than forecasted weather conditions" were the cause of the situation:
"Due to winter storm Grayson, Norwegian Breakaway will have a delayed arrival into New York today. As a result, Norwegian Breakaway's 14 day cruise that was originally scheduled to depart on January 5, will now depart on Saturday, January 6, at 3 p.m. Due to the ship's late arrival today, and the ongoing weather situation, embarking guests are encouraged to arrive to the pier on Saturday morning. All guests must be onboard by 1 p.m. on January 6. Guests unable to adjust their travel are welcome to board on Friday evening between 6 p.m. and 10 p.m. The ship will now sail a slightly adjusted itinerary, which will be communicated to guests onboard. All guests will receive a refund of one day of their cruise fare, in the form of an onboard credit. We sincerely thank our guests for their understanding of this unexpected change due to the weather and apologize to our guests for any disruption to their schedule,"
But some onboard the ship and those who spoke with the media after arriving back on land told a story that involved a lack of communication and a trip that seemed out of touch with the situation brewing outside:
If this all sounds a little familiar, that's because it is — a Royal Caribbean ship attempted to sail through a Category 5 winter storm two years ago but luckily avoided a modern-day Titanic-type of situation. Cruises like these will likely be the last for many of the passengers aboard, and possibly a few more who may have been planning to go some time in the future after learning of the risks the captains of these massive ships often take seemingly to arrive at scheduled ports on time.