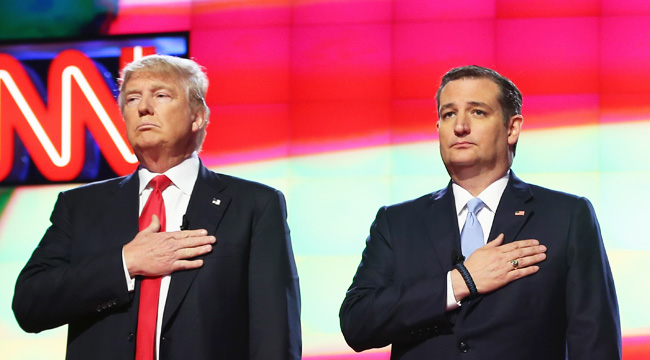 (Note: Please see our update at the bottom of this post. The anticipated endorsement of Donald Trump by Ted Cruz has happened.)
In a twist that is on the same level as a played out M. Night Shyamalan joke, Politico has reported that Ted Cruz will announce his support for Donald Trump in the upcoming presidential election. Shock doesn't begin to describe the reaction to such an endorsement, as Cruz and Trump were bitter enemies on the campaign trail, often slinging insults at one another and arguing over Trump's JFK assassination-related accusations.
Politico reports that this is gonna happen, and CNN concurs. However, no one knows whether Cruz will just state that he's voting for the Republican nominee, or if he will issue a full-on endorsement. A specific statement may need to be in order, for even a few months ago, Cruz didn't even want to be in the same room as Trump. In July, Cruz made a speech at the Republican National Convention where he told his party members to "vote your conscience," which seemed to be a slight on Trump. He also declined to publicly endorse at that time and was booed off the stage. The death stares from the Trump family during the speech seemed to signal that any budding relationship between the two was over.
But Cruz apparently changed his tune and is reported to announce his endorsement on Friday. Cruz has avoided the Trump spotlight in recent months, which has helped him gain some followers. However, an anonymous Cruz campaign worker said the endorsement could "destroy his political brand" and repel those followers. With the projected endorsement by Cruz, this leaves Jeb Bush and John Kasich as the only endorsement holdouts, and it's likely they won't budge.
It hasn't been announced what favors Cruz will earn for this unexpected endorsement yet. Cans of soup may be on the table, but that has yet to be confirmed.
UPDATE: The deal is done. Cruz posted a message to his Facebook page. He'll not only vote for Trump but also endorses him:
"After many months of careful consideration, of prayer and searching my own conscience, I have decided that on Election Day, I will vote for the Republican nominee, Donald Trump … A year ago, I pledged to endorse the Republican nominee, and I am honoring that commitment. And if you don't want to see a Hillary Clinton presidency, I encourage you to vote for him."
(Via Politico)