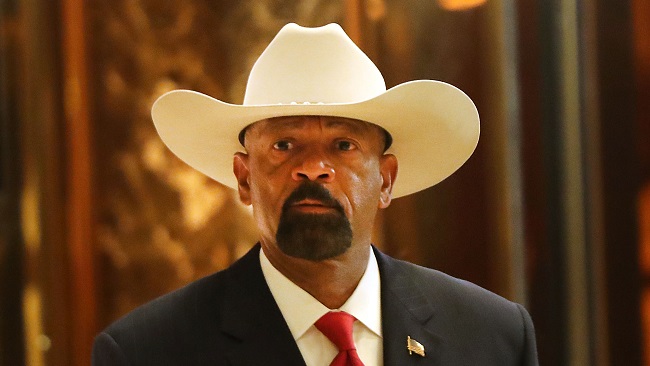 Milwaukee Sheriff David Clarke made a name for himself in 2016 by denouncing the Black Lives Matter movement despite his being an African-American man. Since then, he stumped for then-Republican nominee Donald Trump and appeared on an early list of potential cabinet appointees. Yet nothing ever came of the appointment rumors until Friday, when Politico reported Clarke was being vetted by the White House for a position with the Department of Homeland Security.
According to the report, the Trump administration is eyeing Clarke for the open assistant secretary spot at the DHS Office of Partnership and Engagement — a post without the need for a Senate confirmation hearing. At least three anonymous sources confirmed the news, though as one senior official noted, it's "not a done deal yet." Whether or not Clarke actually gets the job remains to be seen, especially after this week's revelations regarding a 2016 incident involving a deceased inmate at the sheriff's jail.
Terrill Thomas died from dehydration last April, and according to an inquest, the inmate was locked in solitary confinement without water for seven days. The investigation into Thomas' death is still ongoing, however, and despite the public outcry stemming from the latest information about what happened, Wisconsin Gov. Scott Walker refuses to remove Clarke from his post.
Officials from Clarke's office, DHS and the White House refused to comment officially on the sheriff's reported consideration. Considering the cast of characters occupying confirmed positions in the Trump cabinet — like Suicide Squad executive producer Steven Mnuchin and former WWE executive Linda McMahon — Clarke's appointment wouldn't be that surprising.
(Via Politico)