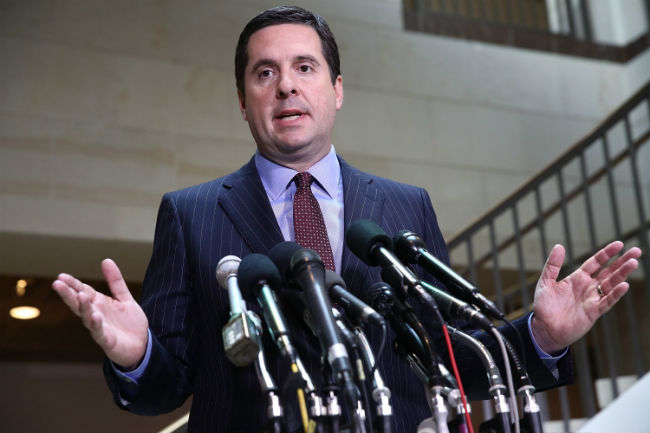 Chairman of the House Intelligence Committee Devin Nunes has been playing a game of whack-a-mole since he scurried to the front steps of the White House early last week clutching what is reported to be an "incidental" collection of communications involving associates of President Trump.
Late last week, Nunes publically apologized for not first huddling with his fellow Intelligence Committee members to go over the materials before he delivered them to the President. Then it was reported that the day before the revelations, he had abruptly slid out of an Uber he was sharing with an aide. Now, CNN is reporting, and Nunes confirms, that he met on White House grounds with the source of documents detailing the intelligence, but he insists no one at the White House was made aware of his meetings, rather, the White House grounds were just used as a sort of safe place for him and his source to go over the documents.
Yes, that's his explanation. A Nunes spokesperson released the following statement in regards to the reports of about his whereabouts prior to dropping the surveillance claims on the media's collective laps last week:
"Chairman Nunes met with his source at the White House grounds in order to have proximity to a secure location where he could view the information provided by the source," Nunes spokesman Jack Langer said. "The chairman is extremely concerned by the possible improper unmasking of names of U.S. citizens, and he began looking into this issue even before President Trump tweeted his assertion that Trump Tower had been wiretapped."
As recently this morning, Intelligence Committee members were still saying that they have yet to see the reports Nunes showed the President, even though Nunes recently told CNN he has been working to nail down the veracity of the information for months, even before Trump's infamous wiretap tweet.
The circumstances surrounding Nunes's whereabouts, and subsequent deeper questioning, obviously hint to the fact that some believe Nunes' source in all this Trump surveillance hoopla is actually Trump himself, something White House spokesman Sean Spicer shot down last week.
"I don't know what he (Nunes) briefed the president on, but I don't know why he would brief the president on something that he gave him," he said. "It doesn't seem to make a ton of sense."
This game of Where In The World Is Devin Nunes is not helping his case as to whether or not he can conduct an impartial investigation into potential Trump-Russia ties. You can be sure there will be more digging, and subsequent explaining away of new information, as the week goes on.