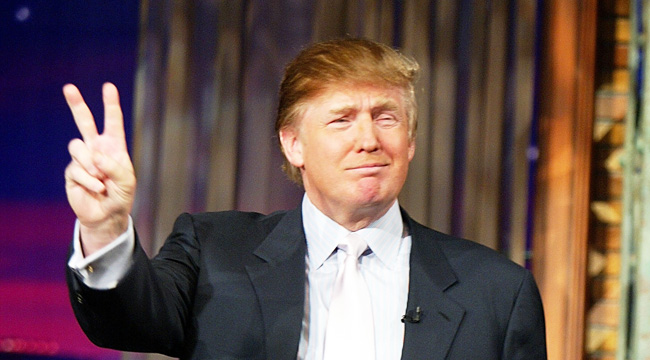 Donald Trump's business practices are likely more than a little shady. Reported mob ties and employees who detail Trump's immigration violations have piled on atop fraud lawsuits and the simple fact that many of Trump's businesses have failed despite his attempted maneuvers at winning. A few weeks ago, Newsweek dropped a massive exposé about the Trump Organization's many inextricable ties to foreign politicians and criminals, all of which could jeopardize national security if he gets elected president.
Newsweek's Kurt Eichenwald has released another report that isn't quite as vast as the Trump Org exposé, but the fallout could cost him the state of Florida in the general election. The report details how Trump spoke to the Cuban American National Foundation in 1999 (when he first made a play at a presidential run under the Reform Party) and told them how he'd support the American embargo and never invest any money in Cuba while Fidel Castro was in power: "He's a murderer. He's a killer. He's a bad guy in every respect." Trump told the crowd that the key to knocking Castro out of power was to maintain the embargo, but he may have simply been paying lip service to the overwhelming opposition of Cuban-Americans to Fidel Castro's regime.
Eichenwald doesn't make the accusation lightly, for he dug into court records and conducted interviews to unearth how a Trump-owned company maintained secret (and illegal) business ties in Communist Cuba despite the embargo, and it sure looks like team Trump made efforts to hide their actions:
Documents show that the Trump company spent a minimum of $68,000 for its 1998 foray into Cuba at a time when the corporate expenditure of even a penny in the Caribbean country was prohibited without U.S. government approval. But the company did not spend the money directly. Instead, with Trump's knowledge, executives funneled the cash for the Cuba trip through an American consulting firm called Seven Arrows Investment and Development Corp. Once the business consultants traveled to the island and incurred the expenses for the venture, Seven Arrows instructed senior officers with Trump's company — then called Trump Hotels & Casino Resorts — how to make it appear legal by linking it after the fact to a charitable effort.
The timing of the aforementioned payment by Trump apparently happened just prior to his first presidential bid, and he never disclosed the secret trip on behalf of his company. The proper permissions for his associates' travel weren't secured, and the Trump campaign hasn't responded to Newsweek's request for comment. If Eichenwald's conclusions are correct, this looks like another case of Trump using "charity" as an excuse to hide true intentions, as with the Pam Bondi campaign donation scandal and all of the phantom donations that have cast much doubt upon the Trump Foundation's actions.
The report also dives into another assignment (and one already exposed during this election season) by Seven Arrows. This would be Trump's efforts to convince Florida politicians to allow casino gambling, so he could set up a deal with the Seminole tribe of Florida. Eichenwald details how Trump lied about these efforts too. Coupled with his deception of Cuban-Americans concerning violations of the U.S. embargo against Cuba, Trump may have guaranteed that Florida will be the swingiest state of all in November.