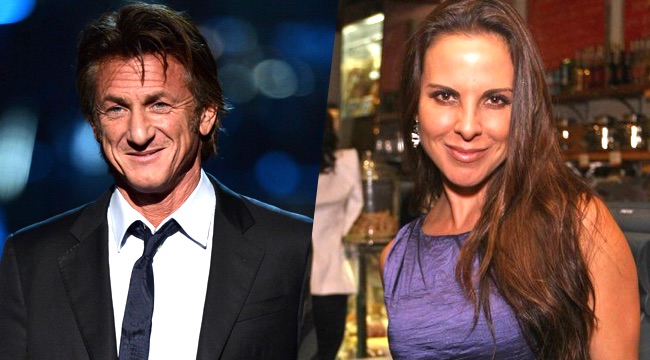 After Sean Penn's profile of Joaquin "El Chapo" Guzman, which felt like more of a diary entry in which he farted near the kingpin, we learned that El Chapo had no idea who the Oscar-winning actor was. The fearsome drug lord was said to have had Hollywood dreams, but he really had the warmies for Penn's partner in journalistic crime, Kate del Castillo. The very married Guzman yearned for the actress and peppered her with flowers after she expressed hopes that El Chapo could become a true Robin Hood figure.
So, their sort-of friendship blossomed, and Guzman sent her a pink cellphone because he knows what ladies like. They stayed in contact, and she referred to him as "papa." Now, the actress has stepped forward with her take on the Penn mess. In an interview with The New Yorker, del Castillo explains that her initial fascination with El Chapo arose through her own disgust with the Mexican government. She wanted to help the drug lord arrange his Hollywood big-screen biopic. The lengthy profile ebbs and flows for many paragraphs until del Castillo reveals how Penn pulled a fast one by not announcing his interview intentions until they were sitting with Guzman:
Over tacos and tequila, del Castillo and El Chapo exchanged small talk about her family and his life on the run. Then Penn asked her to translate on his behalf. He said that he was there to write a story for Rolling Stone, and that he would like to do a series of interviews with the drug trafficker. Del Castillo says that she was taken aback. Penn later said in a statement, "Kate was a valued partner in our journey, which was embarked upon with total transparency and full knowledge of our collective interests. From our first meeting, I discussed with her my intention to interview Joaquin Guzman for an article in connection with the meeting that she facilitated. We discussed it again during the flight and the trip to Mexico with our partners." Del Castillo says that Penn's claim that he told her about his idea for an article at their first meeting is "total and complete bullsh*t," and that his mention of the story to El Chapo was the first she had heard of it.
Well, well. We've seen hints of discord already, but this is the first time del Castillo has hit out at Penn. She also indicated that El Chapo was a gentleman despite Penn springing this interview business on everyone. (Guzman's graciousness probably has something to do with infatuation, as he thanked the actress for the best evening ever.) Now, the truly interesting part of this New Yorker profile involves del Castillo accusing Penn of getting details wrong and flat-out making sh*t up. One example includes a fictitious military checkpoint where Penn said one of El Chapo's men posed as an officer (Penn used this as an example of corruption). The actor says he's sticking by his story, but del Castillo's takedown exposes his "experimental journalism" as a web of lies. Shots have been fired, y'all.
Del Castillo and Penn have since faced inquiries from authorities, and both may be in fear for their lives. Surely, both have beefed up their security details, and del Castillo's interview is a way to stay visible in addition to telling her side of the story. She deserves that much after Penn already shaped his own narrative, and the mythical saga of El Chapo shall continue.
(Via The New Yorker)
Now Watch: The Full Story Of El Chapo's Escape And Recapture