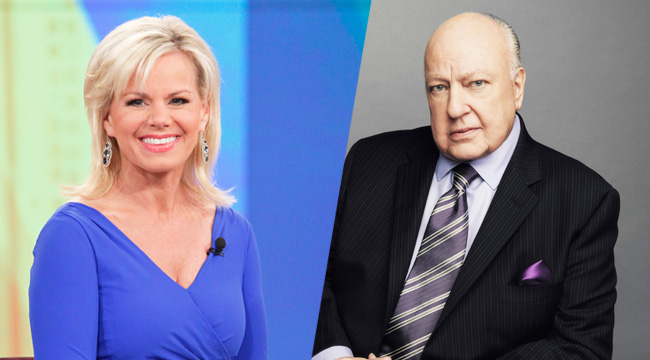 As forecast earlier this week, journalist Gabriel Sherman has dropped a rather damning NY Mag exposé about Roger Ailes. Sherman, of course, wrote the a book on Ailes, and he's the journalist that the former Fox News CEO and Chairman loathes the most. There's even a report that Ailes wanted to dispatch goons to beat up Sherman, who hopefully has some fantastic home security, especially after his latest missive.
The entire piece launches from Gretchen Carlson's recent sexual harassment lawsuit against Ailes, but the article spans far and wide and truly dives into an alleged pattern of predatory behavior. Sherman fills in some blanks about the reported audio tapes that Carlson was said to possess and which could result in a massive settlement. Carlson was reportedly so disturbed by her boss' sexual demands and knew she stood no chance against him unless she recorded his actions. So that's exactly what she did:
Taking on Ailes was dangerous, but Carlson was determined to fight back. She settled on a simple strategy: She would turn the tables on his surveillance. Beginning in 2014, according to a person familiar with the lawsuit, Carlson brought her iPhone to meetings in Ailes's office and secretly recorded him saying the kinds of things he'd been saying to her all along. "I think you and I should have had a sexual relationship a long time ago, and then you'd be good and better and I'd be good and better. Sometimes problems are easier to solve" that way, he said in one conversation. "I'm sure you can do sweet nothings when you want to," he said another time. After more than a year of taping, she had captured numerous incidents of sexual harassment.
One of these reported quotes is not new, but the notable detail here is that Carlson claims she has proof, and the article details the lengths to which she went to protect it, including employing an IT technician to shield her devices from Fox News spyware along with other precautions. And Carlson was planning to file her lawsuit this fall, but that date got pushed forward when she was fired on the day after her contract expired.

The rest of Sherman's piece details an awful lot of reported enabling going on for Ailes. While Rupert Murdoch's sons detested him, the titan protected Ailes for some time. Ailes was even hired despite being a known handful who had torn through a series of network jobs with his volatile behavior. NBC executive David Zaslav reveals that he feared for his own safety after threats from Ailes, who referred to him as a "little f*cking Jew prick." And his poor treatment of women apparently goes back to the time of Nixon: "It was Ailes' well-known reputation for awful behavior toward women that prevented him from not being invited to work in the White House." Sherman also explores Ailes' childhood obsession with TV — "he suffered from hemophilia" — and how he eventually began working as a network gofer, but quickly rose to power with some disturbing results:
[H]e used his growing power to take advantage of the parade of beautiful women coming through his office hoping to be cast on the show. Over the past two months, I interviewed 18 women who shared accounts of Ailes's offering them job opportunities if they would agree to perform sexual favors for him and for his friends. In some cases, he threatened to release tapes of the encounters to prevent the women from reporting him. "The feeling I got in the interview was repulsion, power-hungriness, contempt, violence, and the need to subjugate and humiliate," says a woman who auditioned for Ailes in 1968 when she was a college student.
There's plenty of other gross stuff in the article, including how anyone who complained about a "hostile work environment" would be seen as a whiner or someone who "can't take a joke." An assistant would allegedly record fake names in a ledger anytime a woman visited Ailes' office, and a former Fox News makeup artist revealed her suspicions:
[T]he whispers about Ailes and women were growing louder. Karem Alsina, a former Fox makeup artist, told me she grew suspicious when Fox anchors came to see her before private meetings with Ailes to have their makeup done. "They would say, 'I'm going to see Roger, gotta look beautiful!'" she recalled. "One of them came back down after a meeting, and the makeup on her nose and chin was gone."
All of this continued for many years and never became a cause for concern until Carlson's lawsuit and — perhaps more tellingly — Megyn Kelly's claims that he made overtures to her too. Kelly is "considered by the Murdochs to be the future of the network," so her name made the network start to freak out. So … if all of these allegations are accurate, Ailes' behavior was overlooked for some time even though a lot of people suspected something was up. But with Kelly stepping into the ring, suddenly everything mattered:
Now Ailes had made himself a true liability: More than two dozen Fox News women told the Paul, Weiss lawyers about their harassment in graphic terms. The most significant of the accusers was Megyn Kelly, who is in contract negotiations with Fox and is considered by the Murdochs to be the future of the network. So important to Fox is Kelly that Lachlan personally approved her reported $6 million book advance from Murdoch-controlled publisher HarperCollins, according to two sources.
The article contains a little side note about Donald Trump and how Rupert Murdoch wasn't thrilled with how Ailes threw the network's coverage so solidly behind the Republican candidate. One line that Trump was not permitted to cross, however, was Megyn Kelly. But Sherman writes that even while the network publicly supported Kelly, Ailes "privately blamed her for creating the crisis" between herself and Trump. Kelly also, according to one Fox source who spoke with Sherman, grew "violently ill" before the Cleveland debate and worried that Trump had "paid someone to slip something into her coffee."
Kelly is a huge asset to the network, and it's obviously a good thing that the network dispensed with Ailes. But the result is also disheartening with regard to Sherman's rendering of several stories from other women who were ignored or quieted when they complained. Even long before Fox News (1969, in fact), Ailes reportedly assaulted a model in a hotel room and covered his tracks. The woman said, "I remember Ailes sweet-talking my parents out of pressing charges."
As for the future of Fox News, Sherman paints some astute predictions. He believes that things will hold steady until after the election, and then there will be a "bloodbath." He's predicting that Bill O'Reilly's retirement noises will become the real deal. Kelly may head elsewhere (she's in a good position in contract negotiations, but other networks are making plays for her), and — here comes the predictable kicker — "Hannity will go to Trump TV." Many have speculated that this (his very own television network) would be Trump's true endgame too, if and when he loses the presidential election.
The full piece by Sherman functions as an eye opener even for those who think they've heard it all about Roger Ailes. You can read more here.
(Via Daily Intelligencer)