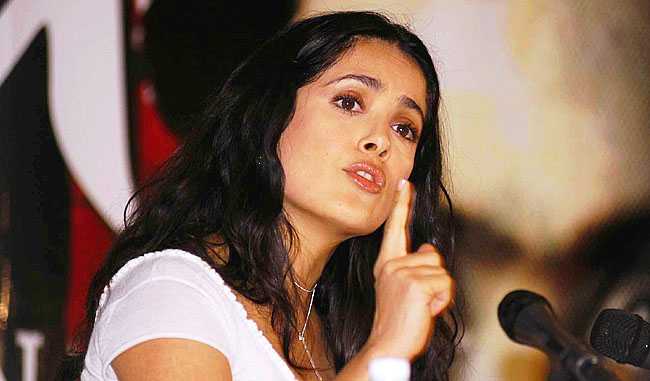 Salma Hayek's op-ed about Harvey Weinstein for the New York Times was the most damning statement yet on the former Hollywood mogul's alleged predatory behavior. Hayek outlined Weinstein's reported antics during the making of Frida, including his previously reported tantrums during production and her own personal accounts of Weinstein attempting to pressure her into a sexual encounter. This includes the following horrendous comment:
The range of his persuasion tactics went from sweet-talking me to that one time when, in an attack of fury, he said the terrifying words, "I will kill you, don't think I can't."
It shocked many and added to the tower of claims already stacked against the disgraced executive. Hayek's op-ed also prompted a response from Weinstein via a statement through his spokesperson. In it, he calls Hayek "a first-class actress" and denies her take on the events described in the piece according to Deadline:
Mr. Weinstein does not recall pressuring Salma to do a gratuitous sex scene with a female costar and he was not there for the filming. However, that was part of the story, as Frida Kahlo was bisexual and the more significant sex scene in the movie was choreographed by Ms. Hayek with Geoffrey Rush. The original uni-brow used was an issue because it diverted attention from the performances. All of the sexual allegations as portrayed by Salma are not accurate and others who witnessed the events have a different account of what transpired…

By Mr. Weinstein's own admission, his boorish behavior following a screening of "Frida" was prompted by his disappointment in the cut of the movie—and a reason he took a firm hand in the final edit, alongside the very skilled director Julie Taymor.

You can read the full statement over at Deadline. The one aspect Weinstein does not deny is threatening to kill Hayek, the most chilling claim made in the NYT piece. It also represents one of the few times Weinstein has denied claims against him. He also released a similar statement to a piece by Lupita Nyong'o in October.
Hayek's essay is only the latest in an explosive scandal that doesn't seem to have a conclusion and reaches far outside the confines of Hollywood.
(Via Deadline)