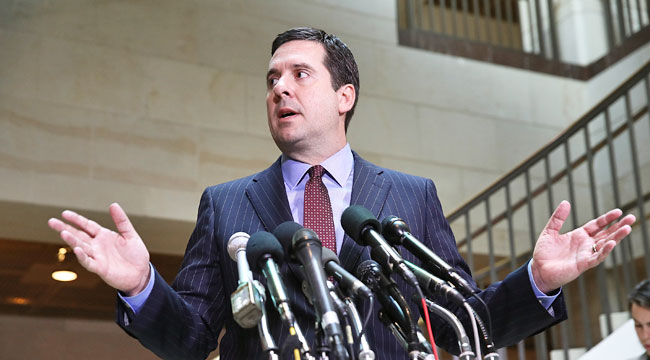 President Trump has been doing his best to shake up the FBI due to his fury over the Justice Department's probe into Trump campaign collusion with Russia. Before firing James Comey as the bureau's director, he pressured him to kill the investigation into Michael Flynn. Trump then tried to push Director Christopher Wray to fire his deputy, Andrew McCabe, who has since stepped down. Trump even reportedly tried to discredit several FBI witnesses on Russia, and now it looks like he'll receive help from House Republicans, who have voted to release a secret memo that will serve Trump's interests.
The New York Times reports that, right down party lines, the House Intelligence Committee has determined that the memo (which has been the subject of much contention and speculation) will soon be available to the public despite Justice Department warnings that releasing it would be "extraordinarily reckless." That determination arrived after committee head Rep. Devin Nunes (R-CA) finally allowed Wray to review the memo and, according to Rep. Adam Schiff (D-MA), Wray didn't feel great about releasing it.
The memo is said to heavily rely upon "cherry-picked facts" to discredit the FBI's surveillance of sketchy Trump campaign advisor Carter Page, poke holes in the Russia probe, and zero in on the next-most-likely Trump target:
[The memo] is said to contend that officials from the two agencies were not forthcoming to a Foreign Intelligence Surveillance Court judge. Republicans accuse the agencies of not properly disclosing that the Democratic National Committee and Hillary Clinton's 2016 presidential campaign helped finance research that was used to obtain a warrant for surveillance of Carter Page, a Trump campaign adviser. The research presented to the judge was assembled by a former British intelligence officer, Christopher Steele.

The memo is not limited to actions taken by the Obama administration, though … the memo reveals that Deputy Attorney General Rod J. Rosenstein, a top Trump appointee, signed off an application to extend the surveillance of Mr. Page shortly after taking office last spring. The renewal shows that the Justice Department under Mr. Trump saw reason to believe that Mr. Page was acting as a Russian agent.
Indeed, it seems that Rosenstein now has a bullseye on his chest in the eyes of House Republicans and Trump, who is said to partially blame the deputy AG for the appointment of Special Counsel Robert Mueller in the Justice Department's Russia probe. CNN recently reported that Trump, who appointed Rosenstein, now wants to fire him over the Russia mess, and this memo looks to be geared toward that eventual goal.
The three-and-a-half page memo has been reviewed by all House members. As of now, there are no further details on when it shall reach public eyes.
(Via New York Times & CNN)