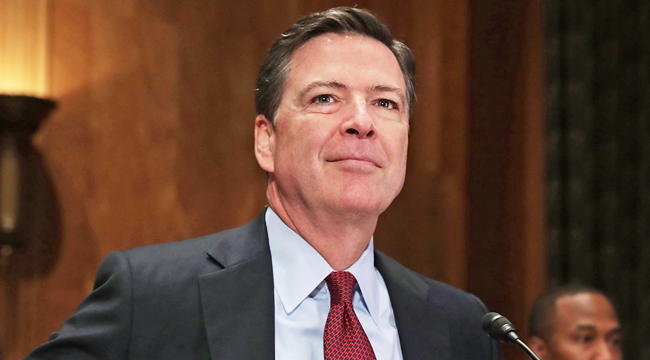 President Trump has quite nearly declared war on the FBI. He celebrated Devin Nunes' attempt to discredit the bureau, pressured Director Christopher Wray to fire people, pushed ex-Director James Comey to drop the Michael Flynn investigation, and cheered after Jeff Sessions fired Deputy Director Andrew McCabe. This weekend, Comey ominously responded to Trump's continuing anti-FBI antics by tweeting, "Mr. President, the American people will hear my story very soon." And it seems that the American people cannot wait to hear that story, if Amazon's best-seller list is any indication.
Comey's book doesn't even come out until April 17, and CNN Money reported that as of Saturday, it sat at #15 on the online retailer's list. Then, incredibly, A Higher Loyalty: Truth, Lies, and Leadership jumped further, all the way to #1.
Indeed, customers appear to be pre-ordering Comey's book like crazy this weekend with Russian Roulette: The Inside Story of Putin's War on America and the Election of Donald Trump coming in second, which also says plenty. The sudden Comey-jump (weeks before the book's release) coincides with Trump's renewed attacks as well as the former FBI director's response tweet. He may have lost his job in a humiliating manner (although not much compares to how Rex Tillerson found out he was fired), but Comey's definitely living his best life right now.