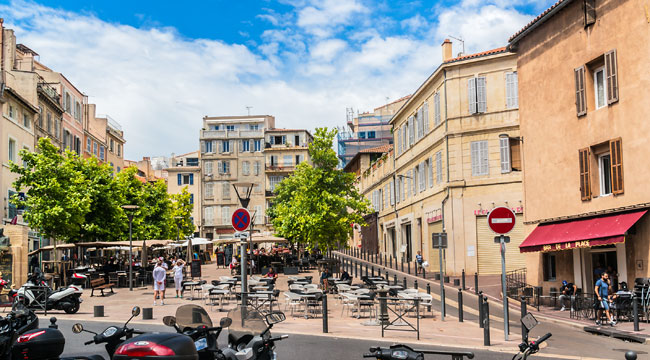 In late August, the southern French port city of Marseille made international headlines when a van rammed into multiple bus stops, killing one person, in an act that authorities determined not to be terrorism. The New York Times now reports that a group of U.S. tourists was attacked with acid in Marseille on Sunday, and a suspect has been arrested.
Bloomberg reveals a statement from the local prosecutor's office, which disclosed how the female suspect allegedly approached four women at the Saint Charles train station and threw the acid in their direction. All four women — two of whom were directly hit in the face — are now receiving emergency medical attention at a nearby hospital. One of the women has reportedly sustained injury to (at least) one eye. Here's more:
She said all four of the tourists, who are in their 20s, have been hospitalized, two of them for shock. She said a 41 -year-old female suspect has been arrested.

The spokeswoman did not release any further details about the victims or the suspect. She spoke on condition of anonymity, per the French judicial system.
Although this incident is clearly horrific in nature, Fox News reports that French authorities are not treating it as a terror attack. At this time, no details are known regarding the names of the victims or the suspect, nor has the prosecutor's office revealed from where in the U.S. these tourists hail.
Since November 2015, France has been on high alert after coordinated multi-site attacks killed at least 130 people in Paris. Since then, authorities have thwarted multiple follow-up attacks by terror organizations, and it has since been revealed that ISIS hoped for much worse carnage while attacking Paris. Although this acid attack doesn't appear to be terror related, U.S. tourists will no doubt see it as a reason to stay vigilant and aware while abroad.
UPDATE #1 – 4:30pm EST: According to CNN, French police say the attacker was "deranged" and "mentally unstable," and therefore, they're standing by their earlier assertion that this was not a terror attack. The Daily Beast adds that the female suspect also claims that she was a victim of an acid attack decades ago.
(Via New York Times, Bloomberg & Fox News)