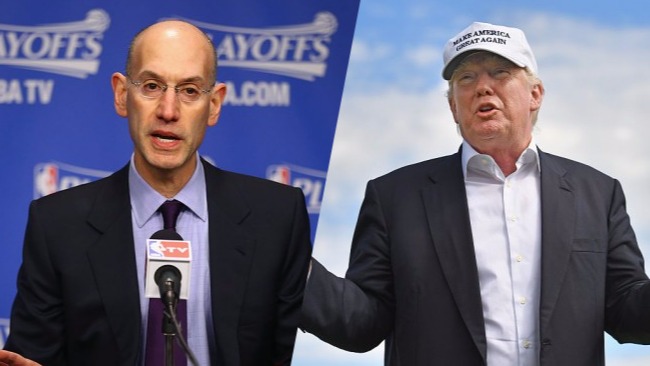 Some NBA players aren't sure if they'll make the customary trip to the White House to celebrate their NBA championship with the President. That's because instead of a hoops-lovin' Bulls fan like Barack Obama, they'd have to meet, shake hands with, and smile for a photo with Donald Trump, whose divisive, racially-charged campaign rhetoric and all-around controversial existence has caused some stars and coaches to get political, with LeBron James openly questioning a White House visit, as he hit the campaign trail for Hillary Clinton.
NBA commissioner Adam Silver told The Undefeated that he believes a boycott of Trump's White House would be a mistake, but not because he wants the players to stick to sports. Instead, he wants them to get up close and personal with The Donald, because very few people ever get a chance to look the leader of the free world right in his squinty eyes and tell him how they feel about certain issues.
"To me, if a player were to choose not to go to the White House, whether they were choosing not to go to the current White House or a future White House, my response would be: 'That's a lost opportunity,' " Silver said. "Because that's an opportunity that most citizens who have a political point of view would kill for — the opportunity to directly tell the president of the United States how they feel about an issue.

"Now, if the president were to say, 'I have no interest in what members of the NBA think about an issue,' that might surprise me and I might have a different response."

Either way, Silver said, "The institution is bigger than any one man, whether that man be President Obama or President Trump. Ultimately players have to make their own decisions. But if they were seeking my counsel, my counsel would be that they should go to the White House if offered the opportunity." (Via The Undefeated)
We're never going to know what James, Stephen Curry, Kawhi Leonard, or maybe DeMar DeRozan will do until they've won the championship and the trip is scheduled (Stan Van Gundy has another season or three to prepare his Costanza-esque rant). It's one thing for players to force the team to stop staying in Trump's hotels, but skipping the White House trip will have Breitbart working overtime for snazzy headlines. At the very least, you're guaranteed a hard foul from Spencer Hawes next season.