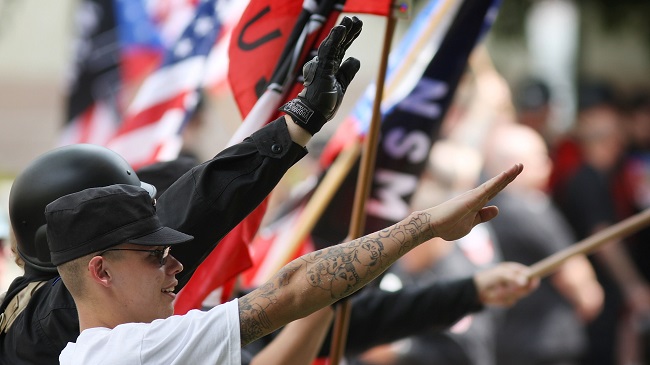 With each passing hour, more details about Nikolas Cruz, the 19-year-old former high school student accused of killing 17 people and injuring dozens more in Parkland, Florida, are being confirmed by the authorities and the press. CNN previously reported that, President Trump's early morning tweet notwithstanding, Cruz had been reported to the FBI as early as five months ago. Meanwhile, the Boston Globe revealed allegations of domestic abuse and cruelty to animals in a separate story. Now the Associated Press is reporting that Cruz was a member of, and trained with, a white nationalist militia in Florida.
Jordan Jereb, the head of the Republic of Florida, confirmed a previous report that Cruz was a member of his organization. Per the Associated Press, the group leader said Cruz also "participated in paramilitary drills in Tallahassee":
Jereb said he didn't know Cruz personally and that "he acted on his own behalf of what he just did and he's solely responsible for what he just did."

He also said he had "trouble with a girl" and he believed the timing of the attack, carried out on Valentine's Day, wasn't a coincidence.
Authorities on the scene have yet to comment publicly on Cruz's alleged affiliation with the Republic of Florida group, which Jereb says will hold "spontaneous random demonstrations" cheering the idea that "Florida [should] become its own white ethno-state." Even so, the neo-Nazi leader stresses that his group "tries not to participate in the modern world." Considering Trump's public comments about (and reported behind-the-scenes discussions of) his white nationalist supporters, however, said lack of participation seems to be a moot point. After all, unearthed Instagram photos purportedly show Cruz wearing a Trump hat.
UPDATE: Jack Smith of Mic has tweeted that Jereb is now backtracking — on the grounds of either lying or being tired — on his confirmation that Cruz belonged to the organization. According to Smith, local law enforcement is confirming what Jereb said earlier … that (even with Jereb's confirmation) there weren't known ties between the two men.
(Via Associated Press)