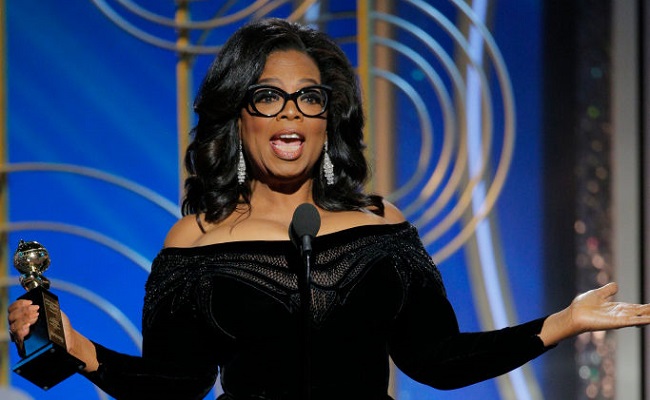 Following her stirring Cecil B. DeMille Award acceptance speech at Sunday's 75th Annual Golden Globe Awards ceremony, Oprah Winfrey reignited speculation she was considering a run for the White House in 2020. Of course, the famous television host, actress, and producer didn't explicitly say she would be running for president at any point during the speech, but her sermon-like appraisal of the #MeToo movement certainly stirred the idea online. So did comments made by her longtime partner Stedman Graham, who spoke with the Los Angeles Times later that evening.
"It's up to the people," he told the paper when asked about Winfrey's political ambitions (or lack thereof) following her acceptance speech. Even so, he continued, "She would absolutely do it" if the circumstances for such a career change proved possible. Oprah herself didn't comment on the subject to the Times or any other outlet, yet the topic was definitely on everyone's minds, thanks to master of ceremonies Seth Meyers' opening monologue. Referencing his infamous 2011 White House Correspondents Dinner address targeting Donald Trump, the Late Night host chided Winfrey for her potential run:
"In 2011, I told some jokes about our current president at the White House Correspondents Dinner. Jokes about how he was unqualified to be president. Some have said that night convinced him to run. So if that's true, I would just like to say, 'Oprah you will never be president! You do not have what it takes!'"
She's running, right?
(Via Los Angeles Times)