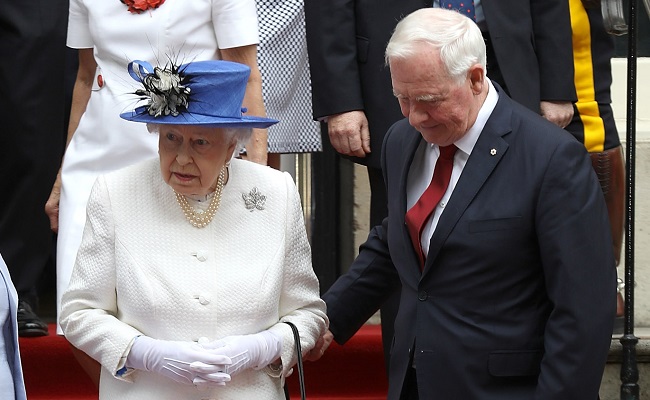 It's highly unusual for anyone to touch Queen Elizabeth II. The last time someone tried, it was Michelle Obama in 2009. A hug between the two caused such a flap that Buckingham Palace had to issue a statement describing the greeting as a "mutual and spontaneous display of affection and appreciation." This time, however, the reasoning was far more simple. Canada's Governor General David Johnson lightly rested his hand on the Queen's elbow as she descended a flight of stairs, and appeared attentive to helping her avoid an embarrassing or painful fall. But was it really a breach of protocol?
"I'm certainly conscious of the protocol," said Johnston, whose position as Canada's Governor General makes him the queen's official representative there. "I was just anxious to be sure there was no stumbling on the steps." After all, despite her legendary drinking prowess and general good health, Queen Elizabeth is 91 years old. So Johnston wasn't the only one eyeing the Queen carefully as she emerged from Canada House after an event to mark the 150th anniversary of Canadian Confederation. He later added, "It's a little bit awkward, that descent from Canada House to Trafalgar Square, and there was carpet that was a little slippy, and so I thought perhaps it was appropriate to breach protocol just to be sure that there was no stumble."
The Queen didn't seem to mind. In fact, she paid little attention to the hand on her elbow. She can't be too perturbed, either, as Johnston gave her a beautiful brooch in honor of her Jubilee.
(Via CNN)