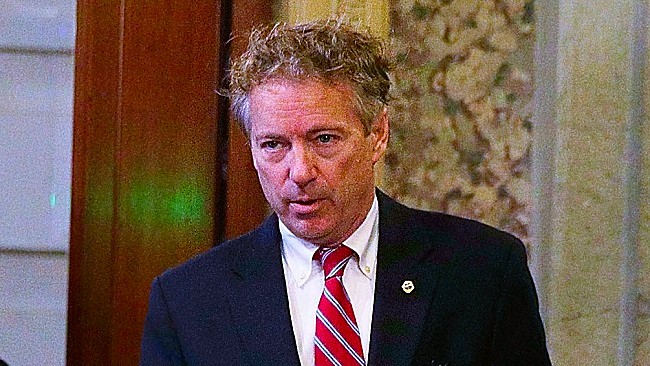 Ever since Sen. Rand Paul (R-Kentucky) was allegedly assaulted by a neighbor outside of his Bowling Green home in early November, resulting in six broken ribs and internal bleeding, rumors have swirled. The lawyer representing retired anethesiologist Rene Boucher described the pair's dispute as a "trivial" one in court. Meanwhile, several prominent conservative media outlets — including Breitbart and Fox News — have mildly suggested (or outright claimed) the scuffle was politically motivated. Per the neighbors that GQ recently interviewed, however, it's all just a massive "embarrassment."
According to Bill Goodwin, one of many Bowling Green residents the magazine spoke with, Paul and Boucher's fight (and everything that led to it) "[is] like the old hillbilly feud over the property line." Going so far as to describe both as "two little sh*ts who have brought embarrassment upon the town," he added: "You're talking about two of them that I'd like to turn over my knee. That's what the folks would like to do. Give them both a paddling and send them on their way." As annoying as Paul and Boucher have both apparently been, however, why the fight?
Goodwin and fellow neighbor Jim Skaggs suggest it may have to do with a yard dispute. "He's kind of a neatnik in his yard," the latter said of Boucher. "You'd see all the little clippings sitting in little plastic bags waiting for pickup every week." The former recalled, "He had his yard sitting at a beautiful two-and-a-half, three inches thick, where Rand cuts it to the nub." Combined with Boucher's apparent "OCD issues," Goodwin said the discrepancy agitated him. "I've asked him and I've asked him and I've asked him," Boucher once told him of confronting Paul about his mowing practices.
(Via GQ)