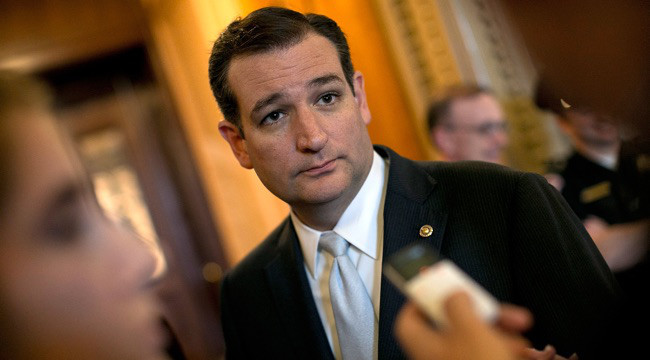 Ted Cruz made a few last ditch efforts to save his presidential campaign. First, he struck an alliance with John Kasich. Then he announced his future Vice Presidential nominee, Carly Fiorina, although he didn't appear to respect her too terribly much. The half-hearted motions were no match for the continued rise of Donald Trump. Cruz suffered yet another critical loss at Tuesday's Indiana primary when Trump swept the race with an immediate projected victory from CNN. Trump takes 51% of the vote to Cruz's 36%.
This was a rough day for the Texas senator, as he defended his father against another tabloid-style assault from Trump. This is only the latest attack, and in the face of a waning campaign, Cruz finally faced the light. During his concession speech, Cruz announced thathe was suspending his campaign. He thanked his supporters, family (including his beleaguered wife, Heidi), and Fiorina for being an "incredible, phenomenal running mate" for all of five minutes. This ends the sad saga of the internet's favorite Zodiac Killer as candidate, and now Trump stands as the presumed Republican nominee.

Here we go, folks, and here's the full concession speech.
New York Times reporter Matt Flegenheimer was one of the first to scoop the news on Twitter.