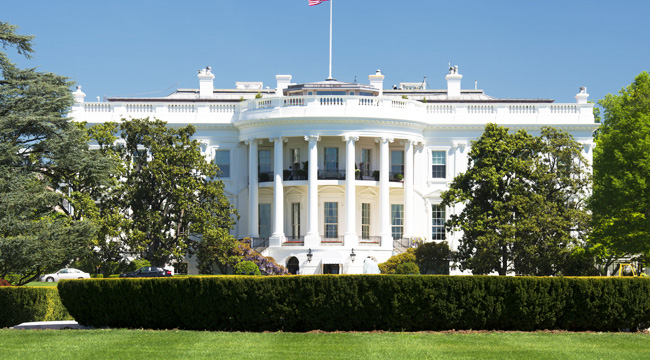 There's a running theme in the news this week — namely, that the Democrats on Capitol Hill seem to be left out of a lot, from GOP House Intel Chair Devin Nunes' "unilateral" decision to subpoena multiple Obama administration officials, to mounting accusations that the White House is purposely withholding information from the Senate.
Since the inauguration, it seems that the White House was quietly refusing to answer Democrats' oversight letters requesting information from various government agencies. Politico reports that Democrats have complained that many of their oversight letters have been ignored since January, and that the problem is only getting worse.
Rather than simply being slow to respond to requests, as some Republicans felt the Obama administration was towards their requests, the White House has flat out told agencies not to cooperate with the Democrats. According to The Hill, it was White House ethics lawyer Uttam Dhillon who apparently told the leaders in multiple government departments not to cooperate with requests.
The idea, reportedly, is that if Democrats get the information they're requesting, they'll use it to go after President Trump, who already feels he is under siege by the press and the left (and who, in his mind, are one and the same).
Senate Minority Leader Chuck Schumer released a statement last week expressing concern about the obstruction, noting that the types of information that Democratic leadership are requesting aren't that different from what an ordinary citizen might seek out. "Federal agencies should generally provide information voluntarily in response to congressional requests," he writes, "especially if these agencies would be required to provide the same information to the general public if requested under the Freedom Administration Act."
For example, some of the requests that have been ignored include Senator Patty Murray (D-Wash.), and Senator Ron Wyden (D-Ore.) question about changes to healthcare.gov posed to the Health and Human Services Department. Murray also asked President Trump about the dismisal of Vivek Murthy as surgeon general, Politico reports. These are hardly the kind of "gotcha" questions the President should find onerous to answer or embarrassing in the press. While requests for information can, and have, been used in that way, the system ideally offers an administration the opportunity to clarify decision making and create an aura of transparency with constituents.

Of course, other recent headlines go to show that transparency and clarity haven't exactly been the Trump administration's style. In the midst of the House's subpoena frenzy on Wednesday night, in which both National Security Advisor Michael Flynn and Trump's personal attorney Michael Cohen were served, accusations flew that Nunes went behind Democrats' backs with his subpoenas. This happened after Nunes recused himself from the Russia probe because the House Ethics Committee found that "Nunes may have made unauthorized disclosures of classified information, in violation of House Rules, law, regulations, or other standards of conduct."
Nunes and his supporters feel that his subpoenas — which were served to determine if Democrats in the then-Obama White House had "unmasked" Trump transition team members in classified documents for partisan reasons — were permissible because they were investigating an issue separate from the meat and potatoes of the Russia probe.
Meanwhile, Nunes was also running around trying to kick up enough dust to make Trump's unfounded claims that the Obama administration wiretapped him seem somehow less illegitimate. His side of the story was that if the Democrats called him out on his baffling behavior and questionable ethics, it was because they were part of "several left-wing activist groups" peddling "entirely false and politically motivated" stories. If the Democrats have really been kept in the dark, however, by a blanket White House policy, those accusations of tale-telling are harder to believe.
(Via Politico)