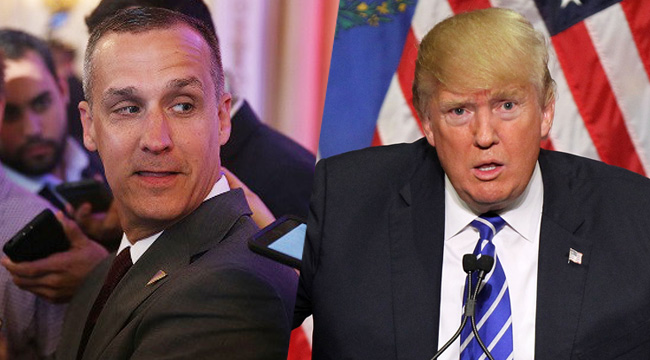 Donald Trump's famously lean campaign staff just got leaner. The team is parting ways with Corey Lewandowski, who did what campaign managers shouldn't do and became a media focus. In March, Lewandowski was arrested after a series of alleged encounters during Trump rallies. There was video of him getting a little too close to a protester during an Arizona campaign stop. And he was accused of assaulting a reporter, Michelle Fields, after a press conference. Those incidents never resulted in legal punishment, and Trump pooh-poohed the matters as evidence of his guy's "spirited" nature.
The storm calmed down for awhile, which may be because Lewandowski wanted to keep a job where he pocketed $20,000 per month. But as Trump struggles to shift towards general election mode, changes are coming. In addition to adopting rehearsed speeches, Trump's campaign announced that it's moving on from their controversial campaign leader but wishes him well:
"The Donald J. Trump Campaign for President, which has set a historic record in the Republican Primary having received almost 14 million votes, has today announced that Corey Lewandowski will no longer be working with the campaign. The campaign is grateful to Corey for his hard work and dedication and we wish him the best in the future."
The timing of this announcement coincides with Trump's newly abysmal poll numbers, although downswings have never bothered Trump until now. But a dumping does signal — more than anything else — a shift in the real-estate mogul's campaign approach. After his March troubles, the media exposed Lewandowski as a major hothead who regularly threw tantrums and made sexist comments to reporters to previous colleagues. In other words, the guy was a lot like Trump, who now wishes to tweak his reputation and adopt a more presidential air.
So, out with the old and in with a mystery entity. Lewandowski may even be scapegoated for his old boss' behavior, but this could merely be further evidence of Trump's disorganized ways. CNN's Dana Bash heard that Ivanka Trump convinced her dad to do the dumping. Meanwhile, NBC's Ali Vitali says Trump staffers are experiencing "bedlam" and had no idea of the shift.

Others have jokes about who will replace the guy. And what did Trump say?
The message to Lewandowski couldn't be more clear. Dude. Is. Fired.
(Via New York Times)